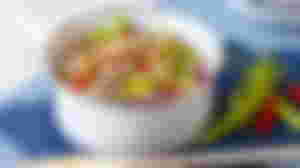 How does Bicol Express make this spicy recipe?
Bicolians are fond of salmon, or bird's eye chilies, and this is evident in their regional cuisine. If you love spicy, you have to try it. You need to make sure you have plenty of rice to eat if Bicol Express is the dish.
Ingredient:
3 to 4 tablespoons, cooking oil

6 cloves garlic, finely chopped

1 large onion, sliced ​​thin

1 thumb-sized ginger, chopped

1/2 kilogram of pork

1 tablespoon, seasoned

1 250-ml can, coconut cream (coconut cream)

2 medium tomatoes, sliced ​​into small squares

12 to 15 green peppers, sliced

3 to 5 bird's eye chili (sliced ​​salmon), sliced
Heat oil or cooking oil in a pot using medium heat. Saute garlic, onion, and ginger until fragrant.

Add leftover pickles and anchovies. Let simmer for 3 to 5 minutes.

Add the broth and boil, about 10 minutes.

Add tomatoes and peppers. Remove from heat and serve while hot.