Glaze is a sauce that relies on acid in the sauce to cook fish or seafood. It is usually made as a coating or appetizer to eat while in the drink but can also be served as a main dish.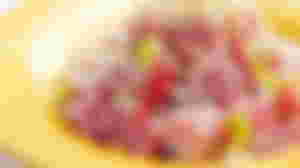 500 grams fresh tuna, sliced ​​1/2 inch long

salt

salt and ground black pepper

2/3 cup spiced vinegar

4 teaspoons calamansi juice

2 teaspoons garlic, chopped

2 teaspoons fresh ginger, sliced ​​into thin strips

1/2 cup white onion, slice thinly

1/2 cup red onions, slice thinly

4 pieces bird's eye chili

1 1/2 tablespoons green finger chili (ceiling fan)

3 tablespoons chicharon, chopped
Put the polished tuna in a stainless steel bowl and add salt and pepper. Set aside for a few minutes.

Add vinegar, lime juice, garlic, ginger, white and red onion, and pepper. Mix well.

Transfer the mixture to the serving dish and toss with the chicharon. Serve immediately.