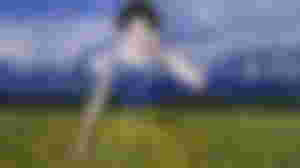 While nature dazzles the eyes, it may also be a source of pain, when you witness the decline of wildlife due to human activities.
Although the Farne Islands is remote, it is not quiet at all. In the summer months, this group of rocks along the northern coast of England welcomes thousands of seabirds, including puffins that you might spot flying over your head as they fill their beaks with some fish.
And in the old church, the island's keepers compete with the swallows, which nest between the rafters, for the attention of those present. This reminds us that sometimes nature can be more chaotic than quiet.
And when our friends visited us in the north this summer, they were astonished when they saw birds covering every rock in the Farne Islands and every inch in the sky, and we were absorbed in contemplating nature and its wonders until we lost each other's traces and lost the sense of time.
Since I moved with my friend to the North last year, I have discovered that nature is full of life. Before that I used to live in big cities where I worked as a writer for magazines on climate change, but all I was concerned about at the time was international politics.
I chose this career path out of concern about the long-term implications of increased greenhouse gas emissions, the increasing risks faced by the world's poor, the risks of food security and reduced ice cover.