What do you think about starting to use starch and exploiting the benefits of starch for beauty? Instead of using expensive cosmetics, starch recipes can be used for cosmetics and many other beauty care issues. There is no kitchen without starch, and we often use it as a substance that adds weight to soups or sauce, but what we do not know is that starch has many benefits and aesthetic uses, starting from giving volume to hair to making bronze powder for the face and many other things that we will get to know through this the article.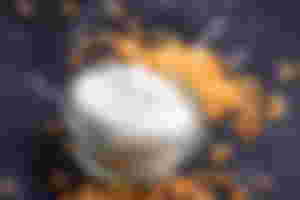 What is starch?
Cornstarch, or what is sometimes known as corn flour or Madina, are carbohydrates extracted from the kernel of the corn, and since cornstarch is made from corn and contains only carbohydrates, it is a gluten-free product and is not a rich source of vitamins or minerals. Cornstarch may help boost calories for people who need it as a source of energy and in order to prevent hypoglycemia in people with hypoglycemia at night. This white substance is used in the home, in cooking, and in industrial purposes as well.
Nutritional value in starch:
Cornstarch is used in the kitchen as a thickening agent for soups, broths, pies, and other sweets. It is also used to make corn sugar and corn syrup. It is also used to make gum for paper.
Cornstarch contains all of the following nutrients:
It contains a carbohydrate rate of 89.87 percent.
It contains 7.50 percent of iron.
It contains 7.11 percent of copper.
It contains 6.55 percent of selenium.
And it contains 3.16 of the dietary fiber.
A cup of starch also contains 488 calories of calories.
Cosmetic benefits of starch
1. You use starch to make bronze powder at home:
One of the easiest cosmetics to make at home is a bronze powder, which starch can be used to make.
How to make bronze powder from starch:
The ingredients used:
Two small tablespoons of cornstarch.
A large hanging of cinnamon powder.
A small tablespoon of cocoa powder.
A small tablespoon of nutmeg powder.
Seven drops of lavender oil.
Method of preparation and use:
Put all of the previous ingredients in a bowl and mix them well.
Put the mixture in an empty compressed powder container and press it.
Put the powder on the cheekbones to define them.
You can reduce or increase the cocoa powder until you get the color that suits your skin.
This recipe is suitable for people who suffer from oily skin.
2. Starch as a makeup fixer:
Did you know that you can use cornstarch as a makeup fixer, well you can put some cornstarch powder on the cosmetic brush and put it on the face in order to maintain the stability of the makeup?
3. Starch for making dry shampoo:
Dry shampoo is used on those days when you do not have time to wash hair before going out, as cornstarch can be used to make dry shampoo as it works to absorb oils from the scalp, so all you have to do is take a small amount of cornstarch and put it on the scalp and comb it.
4. Starch reduces skin oils:
If you have oily skin, you can use cornstarch as it absorbs oils from the skin and hair. Just put a little cornstarch on your skin, and you can also use cornstarch as a translucent powder after applying makeup to absorb the oils.
5. Starch to treat itchy skin:
Cornstarch can be used to treat itchy skin, whether it is due to an insect bite, rash, or infections.
Just fill a clean bottle with cornstarch and add some drops of aromatic tea tree oil to it and shake it well and put it on the affected area and spread it gently in order to calm the itchy skin.
6. Starch to make a fragrant powder for the body:
One of the best aesthetic benefits of cornstarch is that it can be used to make a perfumed body powder at home, which is safe to use for children as well as it does not contain talc or any industrial fresheners and preservatives. Here's how to make it:
7. Starch with lavender powder and body perfumed roses:
The ingredients used:
A cup of cornstarch.
A quarter cup of silt.
Seven drops of lavender essential oil.
Seven points of aromatic rose oil.
See more starch recipes for skin
Method of preparation and use:
Put all ingredients together and mix well.
Transfer the mixture to an airtight container and leave it in a cool, dry place.
Use it whenever you need it.
8. Starch helps treat pimples:
We work with cornstarch as an oil-absorbing substance to remove it from the face, and this helps reduce the clogging of pores due to oils and thus it works to treat pimples.
9. Cornstarch also helps to calm redness and painful pimples on the skin:
And if you have pills in the body, just put some cornstarch on your body, and it will help reduce and remove the pimples, whether they are on the back, chest, or anywhere else.
10. Starch helps sensitive skin.
Sensitive skin can be soothed by placing cornstarch on top of it, as it helps remove pain, itching, and discomfort by calming the skin.
11. You use starch to make deodorant:
Cornstarch is one of the basic ingredients used in making deodorant at home, just clean the armpits with alcohol and then put cornstarch on it, which will prevent any unpleasant smell.
12. Starch to mattify lipstick:
Just apply a layer of lipstick, then apply a layer of cornstarch and press it until it disappears and you have matte lipstick.
13. Starch can be used as a transparent powder:
Instead of using talcum powder that contains talc, which has been linked to many health problems such as difficulty breathing, transparent face powder can be made with cornstarch, where you can use cornstarch directly on the face with a brush or you can make a powder suitable for your skin color as follows:
The ingredients used:
A quarter cup of cornstarch.
Half a cup of arrowroot powder.
One to three tablespoons of unsweetened cocoa powder.
Method of preparation and use:
Add the cornstarch and arrowroot powder to a bowl and mix together.
Start adding unsweetened cocoa powder suspended until you reach the desired color for your skin tone.
Mix all the ingredients together, then transfer the powder to an airtight container and use a brush to apply it to the face.
14. Starch is a soft scrub for the skin:
Cornstarch has an abrasive texture, which makes it work as a gentle scrub for the skin, where you can peel the face using cornstarch and water as follows:
Exfoliating face scrub:
The ingredients used:
Small tablespoon of cornstarch.
Half hanging salt.
Small tablespoon of honey.
Two drops of aromatic tea tree oil.
Method of preparation and use:
Put all the previous ingredients together and mix them well.
Apply the mixture to the face while avoiding the eye area.
Massage the face with the mixture, then leave it for seven minutes, then wash the face and apply a moisturizing cream.
Starch recipes for the skin to lighten and beautify
15. Starch to get fine hair:
You can make your hair softer by putting cornstarch on it while it is dry and then combing the hair. For blond hair, you can mix some unsweetened cocoa powder with cornstarch to be more suitable for hair color.
16. Starch naturally detangles hair:
You can detangle hair by putting some cornstarch on it and leaving it for a period of five to ten minutes, then combing the hair to detangle it.
17. Use starch as a matte finish for nail polish:
You can use cornstarch to dampen nail polish by applying two coats of color, then use a nail polish brush to apply a layer of starch to it.