Santa sent me a gift in Advance
Have you desired of something yet you thought of giving it up in the end? Well, I did.But it turned out a surprise for I didn't expect it to become possible.
Yesterday,my husband arrived from their Christmas party sponsored by their boss in the construction company he was working with. He already mentioned it to me weeks back and it disheartened him that we can't join the party since it was exclusively for the employees. Two years ago and backwards before the pandemic, the families of the company employees were invited every Christmas Party of the company usually held on their main branch in our municipality. Unfortunately, there are lot of changes afterwards.No more social affairs, because of restrictions and at the same time the company's total income fluctuated that it made the whole office to practically eliminate extra expenses such as parties to maintain their employees functional and working despite the effect of pandemic.
So following two years of silent Christmas in the company, once again my husband,together with his colleagues celebrated their Christmas Celebration in a private resort. Regardless of his decision not to attend,he was persuaded by his head and fellow workers to join the party because he was one of the expected employees to receive an award as they were told in advance.
So last night, when I arrived from my part-time job, The children joyfully pointed me the certificate of recognition of their dad hanging on our wall .It was a loyalty certificate acknowledging him for his 6 years of service in the construction company he was working with as a driver and an operator. I know that it ought to be supposedly be given last year because every 5 years of service,10 years,15 and onwards, recognitions of employees are being awarded but since the pandemic struck, it wasn't possible.
I found my husband fully asleep when I checked on him. Upon observing him, I know he was still in his hangover and exhaustion.They had extremely had a joyfully party and a lengthy trip to the location of the resort and back that it made him exceptionally drained.
Few minutes later, perhaps hearing my voice chatting and laughing with our kids, my spouse awakened.Then, he slowly shoved something to my shoulder. It was a shiny green box.Upon seeing it, I thought it was just a box for a phone but has other content.I held it and when I opened the box,I saw it has new phone inside! My husband told me it was awarded to him in addition to his certificate.I accepted it with pure gratitude and no pretentions since I needed it badly.I didn't have internet data for 2 weeks because of practical reason that our net isn't functioning well and my son's phone is slow as well that I failed to view my husband's message in my messenger and post update on his facebook showing his awarded certificate and new phone.I loaded my sim card immediately after inserting it in my new phone😁.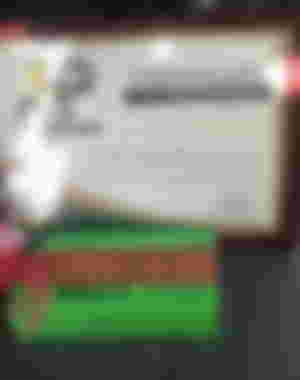 Now I had my unexpected gift for Christmas in advance. In addition to the presents were umbrellas,calendars and thermal flasks. It differs from past years that employees were given with baskets with dozens of kitchenwares while wives were given with loot bags with Personal Care products. However,we were still contended on what we received.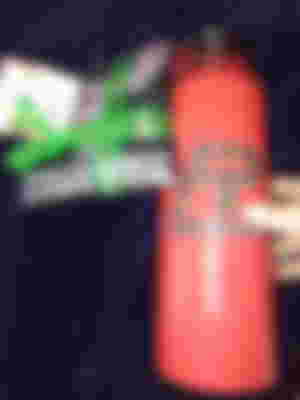 The smartphone was not that of my type really since I was eyeing for a higher unit but it came as a blessing to me and practically,it has already the features I needed anyway so I was very thankful for it.With this crisis situation,there's no room for being choosy anymore. One thing,it's free!😅. There are lot of more important things to be listed in my mind to buy and accomplish than buying a new phone so this is really amazing.
Sometimes,we neglected to recognize beneficial things particularly when it was just common to us. That was where I was hit in the head last night.I was planning to bake my husband a cake and we will surprise him one day after their vacation this month to recognize his loyalty to us ,his family as well. His responsibility doesn't end and I know that it's very exhausting to stay on your job away from your family for so long just to ensure that your family won't get hungry.His salary isn't sufficient to address our needs but still we managed to survive and I think that's enough to give him compliment for his duty as a father and a husband. He may not be a perfect one to be called an exemplary husband and a father but every person has various characteristics. Despite his stubbornness and uncontrollable temper sometimes,I find a loving man behind his hard features.I hope so are you mother's,wives and children.
Advance Merry Christmas everyone.🎉🪅🎄
12/05/22
>Xzeon<