5 Of Cups - Being Consumed With Disappointment & Regret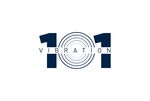 The 5 Of Cups is just as difficult to write about as the other 5's in the Minor Arcana. It doesn't take a clairvoyant to see how uncomfortable and upsetting this card is from the picture alone. The 5 Of Cups represents abandonment, disappointment, and focusing on past failure. Time has gone by which enables you to reflect on mistakes and errors you've made in the past.
The suit of goblets, cups, or chalices is one of 4 suits in the Minor Arcana and corresponds with the suit of hearts in traditional playing card decks. Water is the element associated with the suit of cups, and represents "going with the flow". Water can be calm and soothing, or intense and destructive. It can provide life and be a source of growth or erode and decay whatever it comes in contact with. Cups in tarot have a strong feminine characteristic and are tied closely to relationships, emotions, and intuition. The suit of Cups in a tarot reading deal more with the heart than the head, and rely heavily on feelings and relationships.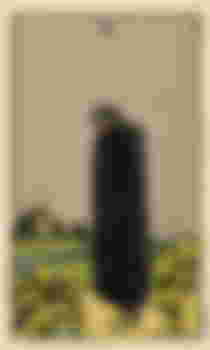 Certain Tarot cards can sometimes just make you sick to your stomach, and this is certainly one of them. The 5 of Cups depicts a man in a long black robe staring down on three knocked-over cups, which represent his disappointments and failures. He appears to be hiding his face beneath the black cloth, almost as if in embarrassment of being seen.
Behind him are two cups signifying fresh chances and potential, but he ignores them because he is so focused on his losses (the spilled cups). A violent river rushes between him and a distant castle, symbolizing a flood of emotions that has estranged him from home. This is a card that represents loss as well as the unpleasant struggles that come with it.
Disappointment

Failure

Sadness

Loss

Grief

Abandonment

Heartbreak

Regret

Loneliness

Discontent
Acceptance

Forgiveness

Admission

Letting Go

Optimism

Moving On

Release

Confession

Brightside

New Chapter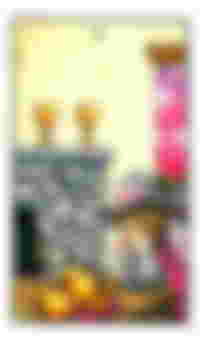 The 5 of Cups Upright occurs in a Tarot reading when a situation hasn't gone according to plan and you feel disappointed, regretful, and dissatisfied. Right now, all you can think about is what went wrong and how you failed. When you think about what happened, old scars and terrible memories flood your head. Instead of moving forward, this card appears to indicate that you are stuck in the past, causing feelings of self-pity and regret. These negative emotions are preventing you from reaching your greatest potential; release them so you may go on and effect positive change.
With the 5 of Cups Upright, you may be having difficulty letting go of things from the past. The card frequently represents a person who is so consumed with their past that they're unable to move forward. If you have been disappointed by someone, find it in your heart to forgive them, thereby freeing yourself from disappointment. The 5 Of Cups is also the Minor Arcana card of abandonment, and it can symbolize forsaking goals or people in your life.
Despite this card's negative implications, there is a good message behind it all. Even if things aren't going your way, the 5 of Cups Upright informs you that fresh opportunities and possibilities are waiting for you — but only when you're ready. It's time to change your perspective and concentrate on what can go well from now on. Be receptive to the brighter side of life and recognize that many benefits are hiding right now. Instead of accepting the 'glass is half empty' mentality, consider it from the 'glass is half full' perspective. Even when things go wrong, you can always take something positive from the experience by reflecting on the lessons learned.
The 5 of Cups Reversed indicates that you may be afraid of being labeled a "failure" and don't want to admit to people that you've made a mistake. If you feel guilty or humiliated about what happened, the 5 of Cups Reversed invites you to forgive yourself and move on. Even if you've forgiven yourself you may not be ready to acknowledge it to others and prefer to keep your emotions hidden.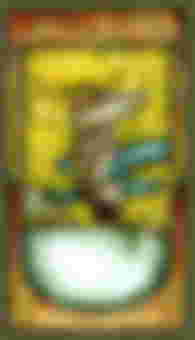 With this Minor Arcana card in your Tarot reading, you may be more inclined to accept assistance from people around you. Your friends and family may not realize how much pain you're in right now, so don't hesitate to seek help from someone you trust. You'll discover that by discussing your feelings with others, you can overcome this brief setback.
In general, the 5 of Cups Reversed signifies acceptance, forgiveness, and healing. You can see how the pain and anguish you went through have only made you stronger and more resilient. When the 5 of Cups Reversed appear in a reading, you're realizing the full meaning of the past and appreciate the lessons acquired. You are starting to become aware of the opportunities that have been all around you all along. If you've had setbacks, you will discover that you are more optimistic about the future and will want to engage in the exciting, creative side of life again. You're ready to pick up the remaining two cups and get on with your life as usual.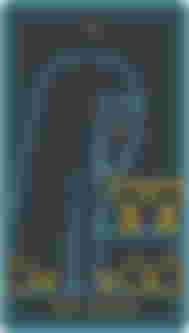 The 5 of Cups Love card indicates you may be going through a breakup or a period of stress with your partner. It is, nonetheless, important to recognize that not all is lost and there are still seeds of hope. As much reason as there is to be sad, the 5 of Cups Love interpretation says there are even more reasons to be cheerful. Was there a disagreement that taught you something about the relationship? Did it facilitate communication that might otherwise have gone unnoticed? Did the breakup provide you the opportunity to develop your personality outside of your previous relationship? These learning lessons are all critical to successfully moving forward.
If you are single, the 5 of Cups Love meaning can imply being overtaken with grief or despair about a previous relationship that did not work out. You may believe that "The One" has slipped through your fingers. You are ignoring possible mates because you are preoccupied with your sense of loss. If this is the case, you will need to concentrate on addressing these feelings before even CONSIDERING another relationship. The 5 of Cups Love card can signify desertion or signal that you are afraid of being abandoned.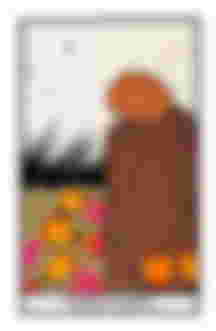 The 5 Of Cups Money card in the context of your profession might manifest as the loss of a job or business. Alternatively, someone with whom you work may forsake the projects you collaborated on, or you may choose to leave.
Maybe you're being forced to take a step back in your profession and feel a sense of embarrassment. These adjustments are difficult, but they provide a chance for growth. Maintain cordial ties with former employees outside of the workplace as these can be viewed as the two standing cups.
The 5 of Cups Money card in the tarot spread might represent a shortage of resources, therefore now is not the time to be careless with money or make investments. There may be a lot of stress right now, so watch your spending carefully in order to rebuild your financial stability. Fortunately, this card almost usually indicates that there are many things you can salvage from this situation. Look at what you currently have as well as your skill set to see what you can utilize to compensate for the loss.
---
How do you handle loss and regret? What lessons have you been able to learn now that time has passed and you can think clearly again? Have you lost a job, partner, or made a decision you wish you could take back? Let's talk about it!
---
https://vibration101.com/5-of-cups-upright-reversed-love-and-money-meaning/