A Brief Trip to Swat Valley (Mini Switzerland of Pakistan)
Article # 122
Dated: 17th May 2022
I am back again after three weeks. I was on Eid holidays for 10 days and then I went on a short trip for 4 days with my family. I will try to write regularly onward on this platform (I hope I keep my word this time 😂).
The summer is back in our region and the heat waves are more intense this time. We usually observe severe heat in June and July but this time even May felt like we were living in a hot kitchen. So I wanted to get fresh by visiting a cool and beautiful area. My mother belongs to Swat, so she decided to visit her brothers. I already wanted to take some time away from my region which was acting like a furnace. And when I heard my mother is also visiting there, I told my wife to pack bags and visit Swat.
So Swat is also known as Pakistan's Switzerland and Heaven on Earth. Some claim that Queen Elizabeth II called it "Switzerland of the East" that's why it is named Switzerland of Pakistan. Swat is one of the major tourist attraction spots in Pakistan that brings tourists from all over Pakistan and from around the world too. I have seen foreigners in the bazaars of Swat. Unfortunately, some radicals destroyed the peace of the region when they seized it in 2007 but the control was gained back by the state in 2009.
But unfortunately, heavy floods occurred in Swat in 2010 which resulted in the destruction of the roads and infrastructures. Several videos circulated of the hotels floating on the River Swat. The roads remained disastrous for the next few years but the new PTI government started building those roads and now almost all the roads are built and tourism has started again in the region which is bringing revenue to the region.
Swat Valley is naturally beautiful filled with many beautiful places. The valley is surrounded by tall mountains filled with greenery and trees while the Swat River is in the Center. The blue color of the river water is a major attraction and when the water hits the rock, it becomes red because it is snow melted in the glaciers. The best place is its Cedar tree forest. It just feels amazing to see those tall and huge cedar trees.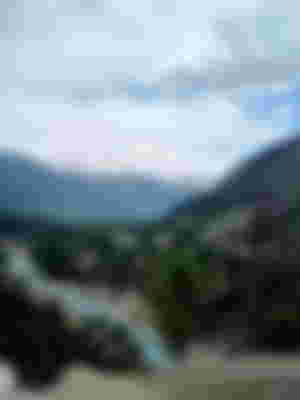 Unfortunately, I didn't take any pictures this time but my wife took this picture and I think she did a good job in capturing the beauty of Kalam Swat by capturing the snowy mountain in which the river swat floating in the center. This picture is a wonderful treat to the eyes. Though the picture is a bit blurry because the camera quality was not good but still good.
Watch the youtube video below if you want to explore Swat. It's 5 mins video and I am sure you would love it.