Personal Branding
A couple of weeks ago, I had a Live session with Jennifer Grant, a Brand Expert from Canada. The topic of the conversation was "Personal Branding." Maybe, personal branding may seem to be a bit off-topic.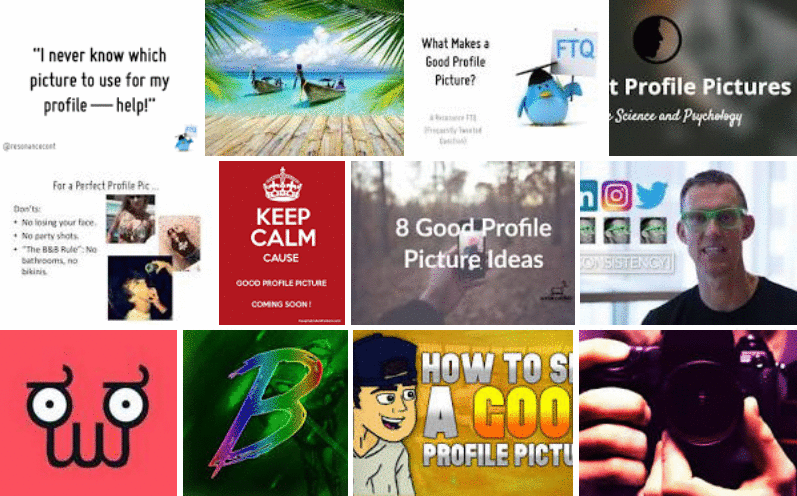 Graphics: A GIF created using copyright-free images obtained by an Internet search with the key phrases, "Good, Bad, Dummy, Bot, Common, Celebrity Profile Pics"​.
Now, I find most people on ReadCash, including myself, are not interested to disclose their real-life profile pic. I know my reason but not that of the other bloggers.
Exceptions are observed here. We often see actual photos/videos of @Jane, @Eybyoung , @rebeysa85 , @ArteFM , @scottcbusiness, and more creators.
My first ReadCash identity (with my real-life photo) was auto-flagged for two long months (without my knowledge) with almost zero algorithmic tips. Then, after two long months of hesitations, I decided to reappear with a new digital identity.
I remain the same inside because I own the same human persona, with the same scientific, technological, and social outlook. I will again appear with my real-world identity soon. Maybe, now with videos, music, on-road engagements, and more variety of content.
---
Recently, I wrote a comment and requested a new blogger to write a tagline sort of "bio" at the top of the ReadCash profile. Some take it in a positive spirit and write some texts. Most others think my requests are rubbish. They are correct with their views.
Who am I to request them to change their "No bio yet" and enter a tagline bio?
There are some bloggers with hashtag "bio" s. I have used quotes to avoid the word "bios," which is related to computer booting programs. Interestingly, I exchanged messages with the inventor of the "Hashtag" and asked several questions on hashtags. He doesn't seem to give much importance to hashtags!
---
In the beginning, I didn't have any customized profile pic. I used the ReadCash offered default profile pic. It was not good at all. Even I didn't yet disclose my real-world identity; I should use a customized profile pic that matches my name and tagline "bio" on my ReadCash profile. It is my logical thinking.
Use a customized profile pic. It can be your real photo or any other image you wish to asscociate with your blogging profile. In my humble experience, I think that a custom profile pic can help to enhance your blogger image.
Some people use a pic with their children. Parents should love their children. But, bringing them as profile pics doesn't make any meaning with their blogging profile. Others use their pets in the profile pic. I also saw profile pics with sunglasses. Maybe, these bloggers are shy to show their eyes!
---
Many of you may ask: What is the importance of a profile photo?
There is, of course, some weightage on your blogger profile photo. When other creators engage with your articles, they first look at your profile photo. If the profile pic is a default ReadCash image, one can't identify you in the crowd of many bloggers.
Moreover, the visual presence of the blogger can yield better engagements.
How can people engage with you without your profile pic? The visual presence matter a lot. It is like talking on the phone with an unknown person. It is similar to listening to a radio show. That is why audio podcasts people show photos of the guest and the podcaster. People now prefer video communication to audio-only ones. It is the same reason.
---
A custom profile photo constitutes an integral part of a profile of a blogger.
A profile photo is an essential constituent of a blogger's profile.

A profile photo can make an impact on audience engagement.

A profile photo is a personal brand image of a blogger.

The short bio or tagline also adds value to personal branding.
Don't ignore your profile photo and the brief "bio" ...
"No bio yet" portrays a passive attitude of the blogger!
---
May I request my ReadCash VIP connections to offer their opinions?
@Amjad_Ali_Waince @Ayane-chan  @cmoneyspinner   @Duvinca  @Diana_ @Ellehcim  @ErdoV  @Janz  @nomadghada  @Oikawa  @Olasquare  @Queen01  @SolarPhasing  @sj0820  @Talecharm
All names have appeared in alphabetical order.
---
I practice STEM - Science, Technology, Engineering, Mathematics. I also develop solutions for password and cybersecurity relevant to blockchain and cryptocurrency.
You may follow my writing communities and submit relevant articles:
Thanks to my sponsors, whose names appear in the "Sponsor" pannel.
I wish all members of the blogging community strive here and elsewhere.
---
Cheers!
Lead Image:  I created an animated GIF with copyright-free images available by Google search with "Good, Bad, Dummy, Bot, Common, Celebrity Profile Pics"​.
Disclaimer: All texts are mine and original. Any similarity and resemblance to any other content are purely accidental. The article is not advice for life, career, business, or investment. Do your research before adopting any options.
Unite and Empower Humanity.
I am also on Noise.Cash ... click the link if you are there.
February 18, 2022.