Another mobile banking application and another great sign up offer with a referral for Kroo. Kroo is another mobile banking account. That you can sign up with and get a great introductory price.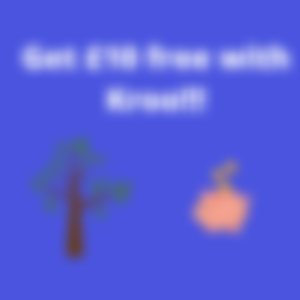 Here is how to get the free £10
Sign up with the link here

Apply and open a bank account

Apply for card

Activate card when it arrives in the post
Shouldn't be any requirement to deposit any money into the account, once the bonus is paid you can then transfer it into your own bank account
Nothing to lose other than the small amount of time and sharing ID
Once you sign up, you will then have your own referral link, to invite your friends and then you can earn £10 for them and £10 for you.
Let's not forget the great part of this offer as well, that for each referral, 10 trees will be planted. Vitally important for the environment.
Kroo's partner in this endeavour is One tree planted.
Kroo is another digital bank account, like 'revolut' or 'monzo', you get a UK bank account number, a debit card that can be used for online or offline purchases. Once activated a contactless card as well. Easily manageable through the app.
No credit check at all for when you sign up.
If your friends do start using then you can split bills and send money easily to your friends.
You can find out more here on their FAQ and support page
To be honest the last thing that I need is yet another finance app on my phone. But we are here for free money.
£10 free for no spend at all is a great offer, and then further, to get £10 free for each friend that signs up as well. Oh and also the planting of 10 trees is not bad going.
But the app itself has nothing wrong with it at all, but I don't think it solves or adds much to any of the others

If interested in the free money however sign up here
If you liked this offer also check out Twig for another easy signup and referral bonus. £5 for signing up with TWIG
Any questions about this or any of the offers I have posted about let me know and contact me here
For more free money offers check out my sign up offers page
Check out the website www.themoneyearner.co.uk
Follow me on Twitter
Noise.cash https://noise.cash/u/Themoneyearner
Medium - https://themoneyearner2020.medium.com/
Email with any questions and I will be happy to answer them or help in any way on these offers or any of the money earners findings
themoneyearner2020@gmail.com