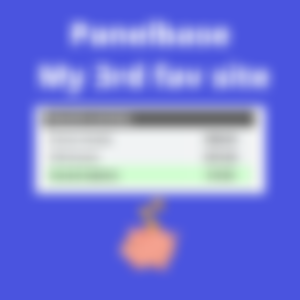 Panel base is an excellent survey website, I have been using panel base for a number of years and have earned huge amounts from it.
It has a lot to offer, some fantastic extra opportunities a good rate of pay and easy to withdraw and provides reliable cash payments.
Free to sign up, a wealth of well-paid surveys.
When you sign up, you start off with £3 at the moment which is a very nice start.
Their profiling section is rather extensive and does take a while to complete, but again similar to other companies is well worth it.
The surveys are emailed to you, and nice little touch on this one, it will tell you on which platform they can be completed on some can be completed on phone, tablet, and computer. Some just one or the other.
Sets out clearly in the invitation the time that it will take and what the reward is.
I would say it normally works out at about 50pence per 5 minutes, but it is quite sporadic, sometimes the payment is very worth it, sometimes it is a bit more of a grind, but I would say whatever the time predicted it tends to take about half that time. That may be from my wealth of experience. On average it would be middle of the ground on par with lifepoints but perhaps not as good as Populus

Screenouts?
I would say screenouts are quite commonplace, but unlike other sites, the screenout happens quite quickly, which I don't mind, I am not going to be able to complete all of the studies. Can't think of many occasions that there have been many late screenouts.
Also as always look out for any attention checks, there will be some on this site
The payment threshold is at £10.00 which is paid in cash via bacs, the surveys tend to take quite a while (a week) to go from pending to confirmed reward, of which it can then be withdrawn.
You can also redeem for an array of vouchers.
They also have a monthly sweepstake (I have never won) but I was cursed by a gypsy as a kid so I don't have much luck with competitions.
This is why I really like panel base, a lot of the studies you see will be "recruitment" studies, these are essentially recruiting for other projects or communities.
A lot of the random survey income I get is consequently from these communities. Could be food, Specsavers; all sorts. But I don't tend to find them in many other places other than Panelbase.
So not only are you getting a good return for your studies with Panelbase, you are getting the opportunity to earn a great amount from other communities.
Not all of them are well paying, but a lot of them are, what I would say is it is worth being involved in many of these, then when the bigger projects come out, your in with a shout.
I have joined consumer pulse through panel base which has earned me over £100 of Argos vouchers to share my shopping habits
You also have the opportunity for product testing opportunities as well.
So I have been on panel base for a while in 2020 I earned a healthy £145
Again this was from 2 accounts, I think I started on the second account in august ( I might be wrong)
But even if you half it, very worth it in comparison to others
It might be a push but £10 a month is very doable from this site for each account.

When you take into account the extras then it is definitely responsible for more.
This figure goes to show just how much I have done on Panelbase, over 2000 surveys, 1783 of which I have actually completed. A cracking return and a part of me left wondering what I have done with my life.
How much does that equate to? well over £470 at the moment, so for longstanding rewards over many years look no further than Panelbase.
That is why it is one of the best, yes not superb, may not have as much as others, and rewards may not be as much, but arguably for one of the best all-round survey sites, panel base is there.
Don't forget if you sign up you start off with £3, so just £7 more and you have got your payout.
Once again, no referral bonus for me, that is another sign of a great survey company no need to bribe people to support it. it just does what it is supposed to.
Definitely worth signing up to, panelbase is one worth checking each day for their surveys and other great earning opportunities
If you like Panelbase then you will really like Lifepoints
Check out what is earning me the most money at the moment by checking out my latest monthly earnings report.
For more money earning methods, subscribe on here;
Follow me on Twitter
Noise.cash https://noise.cash/u/Themoneyearner
Or check out the website www.themoneyearner.co.uk
Medium - https://themoneyearner2020.medium.com/
Email with any questions and I will be happy to answer them or help in any way on these offers or any of the money earners findings
themoneyearner2020@gmail.com