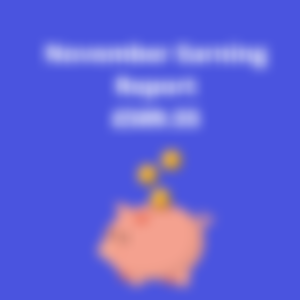 November may not have been as good as October, but it is still a month that I am very happy with. Last month it was our market research offers that served us really well. Not as many studies this week. But our KDP no content books did much better in november. This was always the hope in lead up to christmas. Hopefully December will be even better. Also helped by christmas was our reselling. All Lego sets, again that were bought within the last 10 months, we sold a fair few to make a good decent profit. All of which have now been re-invested (and then some)
Below is the full breakdown of my earnings, to see what sites and opportunities have served me well. Still a long way to go on the journey but we are putting in the building blocks hopefully. The old faithful sites as well I simply cannot stay away from.
---
---
Cracking month from lifepoints £40 from one account £20 from the other lots of regular surveys and some bigger projects helped us reach this milestone
---
Superb month from panelbase this month £40+ on one account and £20+ on the second. Lots of surveys and a couple of bigger projects. Reliable as always
Sign up here (no referral but you can start off with £3)
---
I lied I went back to QMEE during where doing mindless surveys was all my brain could focus on and got few little ones done. Seemed better this month had a few 5 minute surveys that paid £1.50 + but would still not focus on this one
Sign up here (50p if you sign up I will also get 50p after first withdrawal
---
I crawled my way to £5 with my remaining balance checked each day to see if any surveys worthwhile, couple of 200 swagbuck surveys for 5 minutes still so many screen outs mind
---
Citizen me £0.10
Just the one little one - but every little helps
---
Not the best survey site this but doing the odd few throughout the year normally gets me an argos voucher towards christmas. Quite reliable with their surveys but arguably not worth the time
Same as last month just that daily survey is worth it - Other than the daily one no decent surveys of note

Download on the app store or google play and enter code Xjwz27cK to double your welcome bonus
£10 from consumer pulse this month. Not many points lately so slow burn. But again helped with christmas
£5 from club house for talking about the sport I watch at home and the pub. Long standing community this one but don't think been accepting more for a while.
---
Another daily survey couple of minutes a day got to another £5 amazon voucher
Not as many this month but still good money. Hoping to get on few more in december these short user tests are really good

Slightly better month with intellizoom still ticking along. Hope is for £30 for each of these user testing sites so could be better

---
[smart_post_show id="2451"]
---
Enjoy Askable surveys, they are market research ones but the application process is less tiresome than some of the others. Where you don't need to wait on a phone call all the time. I did one hour long market research study for £35, and a little user test for £5. Problem with Askable is however is that there is not an abundance of opportunities with them.
This was a random week long community with different tasks probably took about 10 minutes a day. Was fun and easy to do and a great payout.
The bulk of the cashback was actually from a referral from when someone signed up at the beginning of the year, so was a nice little bonus.
Not a lot from crypto this month but still cannot complain, from read.cash, publish ox and Leo it was just re posting my weak ass and limited blog posts. Brave is an internet browser that gives you brave tokens for using. Nice and passive. But with the ad blocking in built not great for the sites I use regularly
Brave browser £2.93
Random referral bonuses this one, but another easy offer, sign up, verify and get £5 to spend. Helped with few referrals check out my step by step guide here
This is an easy way to get £10, just through signing up and verifying ID. I posted this one at the end of october see my step by step guide here
£10 zilch referral bonus this month, really easy way to get some free spending money, sign up with link verify and get £10 free spending money, make sure to read the guide to ensure how to complete step by step.

Second month of Lego selling, that started buying few bits at the beginning of the year and throughout. Sold a variety of different sets. With ROI of between 40% - 100%. Full breakdown will be incoming. I think i could have eeked out bit more. But wanted to get some cash together for all the Lego we could buy in november.
Was really nice to see lots more sales this month on KDP, most days had some book sales, averaging 2 books a day for the month as a whole. I am hoping december will do even better but we will just have to wait and see.
December is not normally a great month for money earning, but last year I was not reselling toys or doing KDP. Rumours being that december is stellar month of KDP for notebooks and planners, which is what mine are at the moment. We shall see can we beat November?.

Not sent in huge amount of Lego in december as most hasn't retired and I am wary about sending sets in in the hope amazon goes out of stock. But still got quite a few and may pop some up on ebay or FBM. Try to aim for my 90 -100% ROI target.
If any queries about any of them you can contact me here or via email queries@themoneyearner.co.uk or themoneyearner2020@gmail.com
Always more than happy to help