Get 25 x bonus nectar points for 1 hour today
This bank holiday there are a whole host of bank holiday offerings, for the Queens' jubilee, many of which can help us save some serious money.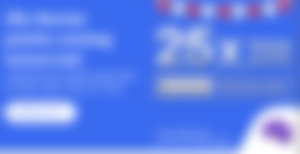 The first of which today is nectar where for 1 hour between 12pm and 1pm on 1st June you can get 25 x bonus nectar points.
The minimum order is £15. You get 1 nectar point per £1 on eBay normally so for a £15 spend you get 375 nectar points with each point being worth half a pence, you will get £1.87 worth back in nectar points for a £15 spend
There is an upper limit you can get a maximum of 7500 bonus points (equivelant to £37.50 - so with basic mathematics the maximum purchase would be £300 spend.
So if you were making a purchase anyway this week, you may as well do it in the hour between midday and 1 PM to get those sweet sweet nectar points
Find out how to link your Nectar card to eBay here
Thanks for reading for more deals and offerings check out my website or follow me on twitter.
Check out the website www.themoneyearner.co.uk
 Follow me on Twitter