11 of the most beautiful places in Austria -2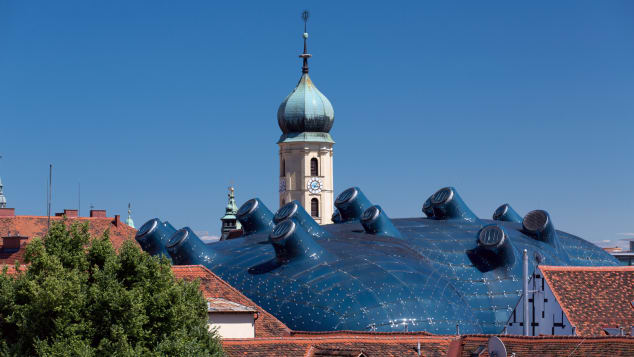 Graz
Featuring red rooftops, castle hills and cozy promenades, Graz looks like a quintessential Central European city at first glance.
That's until you notice a certain giant structure resembling a spaceship, dubbed the "friendly alien," among the elegant Baroque houses.
The spectacular Kunsthaus Graz, a museum of contemporary art, was built when Graz became the European Capital of Culture in 2003 and remains one of the most intriguing sights in the city.
Murinsel, an artificial island in the form of a futuristic shell that divides the local Mur river, is another architectural marvel.
These are just two examples of the ways in which the capital of Austria's Styria region effortlessly mixes its wonderful UNESCO-protected Old Town with contemporary explosions of creativity.
Nicknamed the "City of Design," it's also home to the UNESCO-protected Eggenberg Palace, a stunning Baroque beauty located on the outskirts of Graz with splendid halls full of gold and arts.
Travelers can also visit the house where bodybuilder-turned-actor-turned-governor-turned-popular-culture-icon Arnold Schwarzenegger lived until age 19.
Schwarzenegger was born in a small village of Thal just near Graz and his childhood home is now the Arnold Schwarzenegger Museum.
Frequented by the "Terminator" star himself, it features an informative and fun exhibition about his life, with lots of cool memorabilia