The Solution That Marlin Protocol Offers
Marlin is divided into four crucial aspects, which are creation, management, packet propagation, and monitoring. The protocol uses a relay network designed from a league of Marlin nodes which are accessible. Every miner is meant to link to the relay network, while the miner can randomly decide on what networks to publish their blocks. Those chosen networks have to let the subscribers know and deliver the blocks to using their performance guarantees. To ensure that things run effectively, the protocol utilizes a staying network via its utility token, LIN.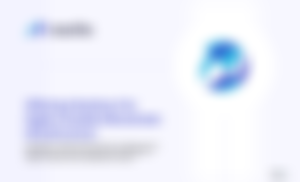 Every aspect of Marlin can be incorporated into decentralized apps, blockchain networks, as well as protocols to ensure that decentralized communication can occur smoothly, while clamping down on latency to about 100ms. They will go a long way to improve the throughput of public blockchains by a lot, thereby increasing scalability.
Marlin Relay
As a generic and adaptable relay network, the Marlin Relay network is designed to easily function with several blockchains. It aims to act as a reward system that motivates and rewards good behavior that is wanted. Every Marlin Relay network is made up of Producers, Consumers, Relayers and Clusters.
Relayer Incentives
Some incentives are given to relayers to encourage them to carry out their duty, which is to ensure that messages are transmitted within the network.
• Fee
This aspect of the reward system is directly links to how much is done on the network. Whatever fee that is charged is utilized in ensuring that the node works effectively. The remaining amount is seen as profit. Relayers have access to the fees paid dependent on the amount of work that they do within the network.
• Block Reward
This aspect of the reward mechanism is given to relayers based on the level of work they do. As a motivational mechanism, it encourages relayers to get involved in the network. Those rewards that fall under this group are created to bootstrap the network. The amount that is allocated to this system decreases as the organic usage of the network skyrockets. What this means is that the block rewards are available in large amount when the network is starting to grow. Relayers tend to get a large part of their cost via the fee reward system.
Conclusion
Marlin Protocol is dedicated to solving the scalability issues that are noticed in other networks. To ensure that the network runs smoothly, an incentive system has been created to motivate the relayers. Marlin team has put everything on ground to ensure that the ecosystem functions smoothly.