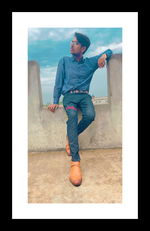 Sun was shining on the brink of the day and i was standing on the rooftop of my home, looking at people who were guest in a wedding ceremony. Children were crowded outside and they were enjoying the moments.
Orange yellowish hue of the evening and children were making a beautiful vibe. When i went out of home i saw little Angels were jumping and my ears were hearing their laughters.
My childhood days were clicking in my mind. How relaxing these days were! When worries were just related to studies but now scenarios has changed and money replaced everything.
Their happiness(laughters) was looking so real. I was seeing two brothers who were arguing on one side. They didn't had enough money for swing that's why they were fighting who will go?
Innocence on the faces of children and the element of not knowing everything makes childhood a best life.
What you think about childhood? Which moment was most special in your childhood life?
Thank You For Stopping By ✨