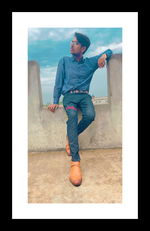 For me sundays are not relaxing days. Craziness is the core of sundays but my craziness goes in another way. I use this craziness in hanging dresses on the wire.
It looks like a Running day towards the coming Monday.
Getting up late in the morning of sunday is a bad thing in my dictionary. Though, every Sunday i get up late, still i don't like this habit of me. In this way my productivity of the day disturbe. Sunday provides me so much comfort which brings laziness. Mondays are good because they keep you in a pressure cooker where you work effectively and efficiently.
I become washing machine on sundays. To be ready for the whole week demands Sundays to be washing day. So, i get up having this load in my mind that i have to wash my clothes.
On every sunday, a laundryman visits all the rooms to collect unwashed clothes. I give him trousers and all those clothes which are just night dresses because he doesn't wash them properly. To have assurance that everything is clean and tidy, i prefer to wash my clothes by my own. The process towards tidy is tiresome. I have to become laundryman for the sunday.
Today, i went upstairs to hang the clothes. Cat was resting under the high sun. She was sitting there in calm manner. I didn't disturb her peace time, just captured her picture and moved to laundry.
When came down, i realized that i have to iron my clothes. That's hectic. Sunday ! Please don't be so cruel towards me.
Iron showed me mirror that i have to iron my clothes. There is no escape.
There is no escape from this type of sunday.