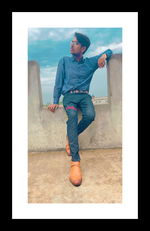 Last night, I decided to go to event which was held in university. It was cultural event Latif day,organized by Mehran Student Council. Shah Abdul Latif Batai who was Sindhi Poet and sufi. To give honor to such great personality of nation,They organized this event.
Many of the students were dressed in cultural dresses. Some students were wearing casual dresses, pent shirt and trouser shirts like me.
Entrance was brightened with yellow color lights which were looking like beads from some distance. When i was standing at distance from these lights i was thinking that that might be lightening ball. Because of my weak eyesight i cannot see things properly.
Anfal,my friend,was along with me. He was busy with his mobile.Colors were being emitted by lights. It was looking a colorful event. Students were dancing,enjoying, talking and vibing.
Performers were performing on the stage and audience was clapping. It was looking like audience is in the fever of event because everyone was enjoying.
When i was vibing on a song with my friend a mobile fell into my feet. I was surprised to see that iphone. Then a person came and asked for his iphone. I think that was the main moment in the whole event.
After spending much time in event, we came out to have cup of tea. Tea refreshed our minds and gave energy to walk towards the hostel. We went back to hostel and dreams took us away to their realms.
That was how i spent my Saturday night.