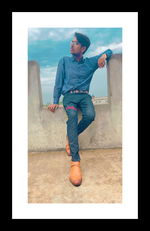 Right after getting up from bed i headed towards my university. Weather was mixer of cold air and sun rays. I walked towards central library as i was eager to complete my book. Thankfully, i have completed that book and now i am happy that i will start a new book from today.
Carrying my student bag i sat in garden of history department and my brain was welcoming all the thoughts. My stomach was asking for water then i went to end that thrust. Then i again sat back in the garden.
Red,green and white colors were looking beautiful. I have no other word than beautiful to refer to flowers.
My mid term exams are about to start and everyone is studying "And Then There Were None" by Agatha Christie" and "Harry Potter" by "J.K Rowling". I am also tensed about it. University life is fun, puzzled, jolly, learning and everything goes hand in hand.
In taking classes day was ending. Finally, darkness took over the sky and it was time to go back to hostel but then i got to know that there is an event which is going to happen in university. I insisted my friends to go that event. We went to event and there were lights crossing the retina of eyes.
Many rides were there and we were hearing noise around us. I was happy with the crowd around me. With company of talal ,i wandered around the stalls where different items were displayed.
I could not catch the snaps of lantern which were flying high in the skies but i was seeing them. Fire works made us amaze and my mouth was open with astonishment.
Yellowish hue of fireworks were looking like paintbrushes are on the black sky.
So this was the last night.