The Baby Is Finally A Lady..My Niece's 18th Birthday Celebration
Yesterday was my niece's birthday. I just hope that the weather will be fine until the evening. I remember when she was just a baby and now, she is finally a lady. It's already 18 years. She was the closest grandson to my parents. She grew with us.
Her family prepared a small celebration today. No 18 roses or 18 candles. Just a simple celebration where family, relatives and friends will get together to eat and chat for a moment.
They rented 1 tent in front of their house and tables and chairs. They also rented videoke for the visitors to sing.
We thought that the celebration was at lunch time but it was in the afternoon. It was 4:00 in the afternoon when my aunts and cousins arrived. They gathered first in our house Then another aunt and my cousins and other relatives arrived too. I felt that they were disappointed because they thought that the celebration already started but during that time, they were just arranging the tables and the foods. They were all hungry during that time.
Then they all went to the birthday of my niece.The weather was bad. When it was about to start, the rain fell down slowly until it falls a bit hard. The celebration started while raining. My relatives thought that they will just sing a happy birthday song and eat. But what was unexpected was when my niece's relatives from mothers side decided to have small program like 18 roses.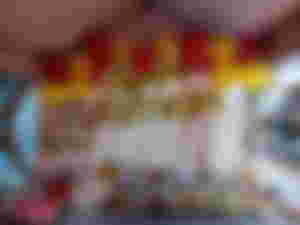 My cousins and aunts got disappointed again. They were all hungry and it was also raining. But since there were few males to dance with the birthday girl, her female friends and relatives dance with her too.
My nieces classmates and friends came too. There were only few visitors. After that dance, they all sang and then ate.
There were lots of foods. My nieces aunt from other country sponsored for "lechon baboy". Then, my father cooked chopsuey, bopis and pansit bihon.
My sister cooked and prepared most of the food. Since Saturday, she was busy going to the market buying all the things needed and prepared some foods so that the celebration day will be less work.
She cooked lumpiang shanghai, spaghetti with white sauce, coffee jelly for dessert and caldereta.
My sister in law who is my nieces mother prepared cordon bleue. They also ordered cake and softdrinks.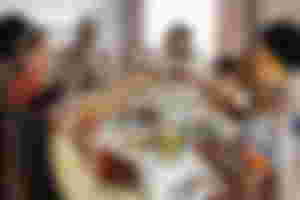 The rain stopped. After eating, my relatives came back in our house. They gathered and chat. This is also our bonding moments since we never saw each other often. There were laughter and a bit of sadness when they talked about my mother who passed away.
I remember when my cousin asked me personally if I am now okay since our mother was gone. I just answered "yes, I am now okay". But actually, I don't want that topic to be asked to me suddenly because I will just cry. It's been a year but every memory of my mother was still fresh to me. It is still hurting me.
Time is really fast. I remember when my niece was still a baby. She was the only child at that time. But now, they are two siblings and the youngest is boy. Now my niece is finally a lady. Soon, she will be in college. Meeting new friends and places. I hope that she will took up the course that her heart desires
She received presents from friends and family. She also received cash which I knew she enjoyed the best. Her birthday celebration was an unforgettable day for her.
Thank you very much and have a nice day to all.