My Sons Journey To School as Grade 1
August 22, 2022 was the first day of classes for most of the students in elementary and high school level. This is also the school year where face to face or the normal classes started again after the pandemic for some schools.
I am one of those excited mothers for their children going back to school. I really wanted him to study through face to face.
I remember when my son was about to go to school at Nursery level. Face to face classes was prohibited and the set up is only modular class which was very ineffective to him. He does not want to answer any of those modules that were given to him. He did not continued with his studies.
Until he reached Kindergarten and still, it was a modular set-up. There were times that he answered some of his modules but mostly, he does not answer them at all. But he still graduated in Kindergarten and now, he is in Grade 1.
I looked and inquired in few private schools nearby and I was surprised with the tuition fees. They were very expensive. All of us in the family grew up studying in public schools which were free but I did not regret since my parents raised us in the way they could.
At first, I enrolled him in a public school. But I was not satisfied because it seemed to me that the school looked crowded because of many classrooms. I expected a lot of students per classroom, too. When I got home, I realized that I still need to transfer my son to a private school that is much affordable and limited number of students.
Then my brother told me to look for the school that he mentioned. I actually looked for that school but I cannot find the exact location of the school. But later on, I found out that the school my brother told me to inquire for, was almost near in one of the schools where I inquired.
So I went to that school the other day. It was more affordable compared to the 2 private schools.. The school was also big and students are only limited.
I have decided that I will enroll my son to that school. But since my son was already enrolled in a public school, I went back to that school and got back his card. I already texted the teacher that was supposed to be my sons adviser and told her about backing out. Prior to going to the school, I received a text message from his teacher about the schedule and location of tbe classrroom.
When I got his report card back, I went to the private school and enrolled my son right away. I was relieved because this is what I wanted. This time, I followed my own decision for my son. I wanted a school with few.students.so that the teacher can concentrate well on them.
I am still unemployed for 7 months now and the money that I got from my previous employer were almost gone. So I planned on giving a part of it for my sons education.
I can say that enrolling my son to a private school is the most amazing things that I've done to my money. In our village, I noticed that only few students enrolled in private schools. Mostly, they went to public.
I do not brag but I am just a proud mother. The first week of his studies was online. Then, next Mondays amd Tuesdays will be face to face and Wednesday to Friday will be online set up. This will be the set up until November. If the government advised that classes will be fully face to face, that is the time he will go to school 5 days a week.
His first week of online class was successful. He saw his classmates for the first time. They were 10 students but one of his male classmates lives in Malaysia. He will be online until the emd of school year.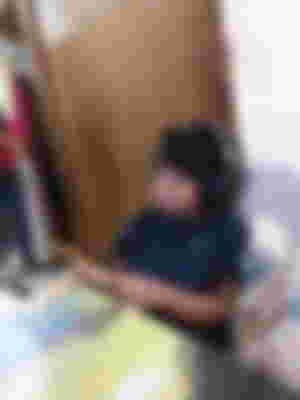 The next Monday, I was excited for my son to go to school. It was his first time to enter his new school as Grade 1. The school was near our village and it will take us 7-10 minutes walk from our house to the school. The only problem is that there were lots of vehicles outside while we are walking.
But when we reached the school, he was happy and excited when he saw his teacher and classmates. When he was inside the classroom, I was nervous because it was his first day outside with new faces and without me. I waited for 30 minutes in the waiting area and went home with my niece who was with us when we walked going to school.
When we were home, I was thinking and was worried of my son. He might look for me and cry. I went back to the school after 30 minutes and I was the only mother waiting at that time. There was also another waiting earlier but she also left when we leave.
I waited until the end of their class. The teacher said that no one cried in the classroom. The second day, I just sent him to school and leave also. I just looked at my phone from time to time to check if their teacher will message us. I came back at 12 in the afternoon to fetch my son. Wednesdays to Fridays are his online class. It feels like I was also studying because I have to monitor and guide him in their lessons which other parents are also doing.
He is now starting to write his full name and learning to read "abakada". He needs to learn a lot and we are taking it slowly for him. Most of his classmates know how to read few.words and can write. I told the teacher that my son doesn't know how to read and write. But the teacher said not to worry about that.
I am happy whenever I saw my son participating during online class. I guide him most of the time but seeing him active in some of the subjects makes me happy. But during the last few subjects in their online class, my son is no longer attentive. Even other students also..That is why I have to make sure that he looked at his teachers even though I am not sure if he understands the lesson or not.
He has also assignments that I need to assist him.
I am teaching him at night before going to sleep and I admit that there are many times that I lose my patience in teaching him. But I also keep in mind that he is just starting and aside from his teachers, I am also here to guide him like other parents do. I also understand that my son cannot learn everything that has beem taught to him. He is like starting from scratch but I am just here to support him in any way I could.
Providing an education to our children is an important role of a parent. No mattter how hard life is, we sacrificed for their future. Every student who finished studies is a proud and happy parent. There may be ups and downs, but in the end, we will all succeed and fulfill each dreams.