My First Samgyeupsal With Friends
March 13, 2022
My former colleagues planned on meeting up. The last time I saw them personally was last 2 years ago before the lockdown. Many things happened in that 2 years. There were reduction of employees last 2021 and it continued until it was my turn to say goodbye to our account.
Until one of my closest colleague planned on a get together since we will no longer be working in the same company like before. From the 6 of us that will be meeting again, only 1 remained in our account. The 5 of us were redundiated.
The get together was cancelled previously but then it finally happened.
The original plan was to visit our former colleague who was sick. She suffered heart attack for the second time around and is currently in ICU.
After that, we will have a lunch after the visit. But since we are not allowed to visit her at the moment and we are not yet sure when she will be sent home. That is the time we can visit her.
At first I really don't want to go. I just want to stay at home with my kid and family. I told one of them that I cannot joined them but he insisted. He said that it is the only time we will see each other again so I just agreed.
The meeting time is 12:00 in the afternoon but I came 1:00. I was late for an hour but one of us did not came because she have to render rest day overtime. We were only 5.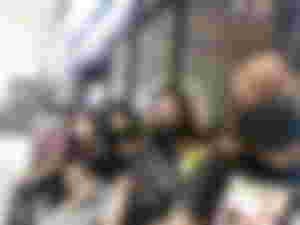 We met in the mall near to us. We planned on eating Samgyeupsal. It was my first time to eat there so I was also excited to experience it even for once.
It was Sunday so the restaurant was crowded. The cost per head is 499 pesos and it is unlimited for 3 hours. It was expensive for me but I also want to try.
We have to wait for our turn because we are 5 so we need to wait for others to finish that can accommodate us in one long table.
It took us almost 1 hour to wait for our seat. But after that, we entered the restaurant and seated.
They served pork, beef, chicken, bacon, ham and side dishes. Since it was a long table, there were 2 fryers. They gave us pencil and small menu lists. All we need to do is to check our orders from their lists. Everytime we want to order again, we just need to give our orders to the crew so that they can prepare and serve ir to us.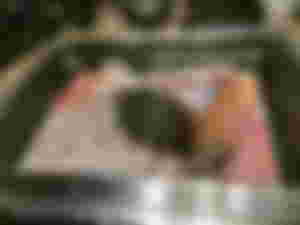 They served us 5-6 small trays each of bacon, beef, port and chicken. What makes it appetizing are the condiments and side dishes. We also ordered cheese. They also served fruit salad, lettuce, coleslaw, corn, and even crabstick and fish cake.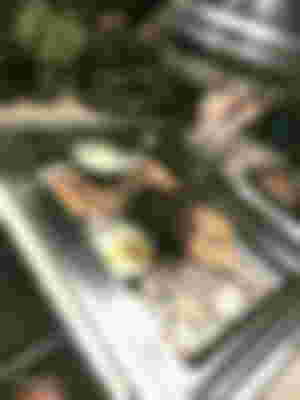 You can also order rice but I did not ordered it because I might be easily full. I will not enjoy the unlimited food if I ate rice.
I noticed that we ordered a lot because the trays were still on our side table. There were a lot of empty trays.
But I love eating the pork, chicken and beef while it was hot and dipped it in hot sauce or even with melted cheese.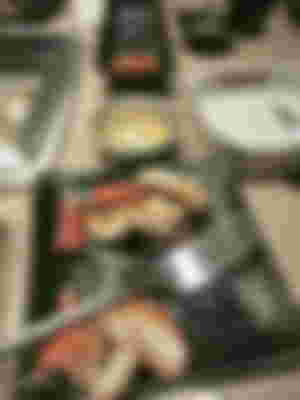 I also tried eating pork and dipped in cheese and wrapped it in lettuce. It was delicious but the pork was so hot that my tongue was hurt.
I also tried eating a very little kimchi. I ate fruit salad as the dessert and there were also served cucumber dipped in vinegar. But I preferred it with salt.
While eating, we also talked a lot about their new work or what we are currently doing. I didn't notice that we already stayed there for 2 hours eating and chatting.
Around 5:00 in the afternoon, we parted ways. The 3 of them went to StarBucks for coffee while the other one attended mass and I just bought brownies for my son and my family.
I went home before 7:00 in the evening. I enjoyed hanging out with them even for a few hours.
It is very different now that I have a son. I cannot hang out for a very long time with others outside if I am not with my son. I have a responsibility unlike others. It was also better that I did not bring him with me because he might get bored sitting and eating for 2 hours while looking at us. He just stayed home while my niece took care of him.
It was also good that I met my friends once in a while. Time to relax and talkes about everything that happened to each of us. They were the people I have been friends at work for a very long time.
It was also a good experience that I have tried Samgyeupsal for the very first time and more to come.
Thank you for reading and have a nice day.