She Dares To Misbehave Again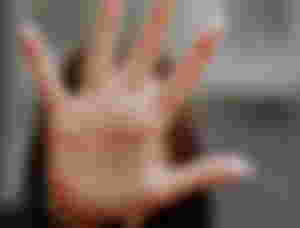 As a human being I'm very sensitive and hardly can handle when someone misbehave with me. Today again the hostel super misbehave with me because I complained for her previous misbehavior. How dare she? Where she should apologize there she is misbehaving and start quarreling. I'm mentally disturbed for this kind of abusive behaviour by a woman who is holding the responsibilities of the hostel I'm living.
Now I'm scared that she can try to harm me and represent me as the bad to others. She has proven that what kind of family she is belonging by her behavior. Her first misbehavior has proven her being a rude and bad woman and now again she dares to repeat this. She is not taking things seriously. The issue was about changing table. Actually when I came to this hostel the manager of hostel was this lady I'm talking about and she replace a broken table with another broken table.
So when my roommate gone I called her via phone for asking permission to take the table as my roommate leaving. She misbehaved with me that she already changed it but she changed it with a broken table but now she is trying to represent to the hostel honor that she gave me table but it was broken he don't know.
When she dare to misbehave over phone, I called the hostel owner and let him know the issue and he granted the permission. Now today the manager woman asked me why I've changed the table even the owner permitted me. I called the owner once again that his manager again misbehaving with me and the woman has no fear of losing job that she tried to prove me wrong to the hostel owner. I'm mentally disturbed for this kind of abusive issues.
Why I meet this kind of people, I really don't know. These people only can make others upset. I'm feeling so down and she is responsible for it. If it will continue how I can live here with peace? Only Almighty Allah can help me to be out from all this and I pray to only my Almighty Allah that my honor and dignity will be saved and this kind of people may learn their lesson soon. Just trying to divert my mind from all these nonsense. Just worried about my good image that can be spoiled by this kind of mannerless woman.
Now its time for sleeping. Expecting a sound sleep. I'm a victim who is suffering from such bad situation so Almighty Allah will surely be with me to rescue me. InshaAllah Ameen! Keep praying for me friends. Stay blessed all!