How to tackle the angry boss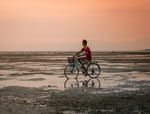 In job life, many people face angry bosses. They always feel dispersion to work under such kinds of superiors and try to overcome the condition. But most people do not know how to overcome this situation. Some people also resign from their jobs due to reasons.
The simple techniques you can apply to tackle angry bosses. First, Listen to your boss work instruction with attention and try to clear his need. Regularly update him on your job progress or position.
The second point is always to try to talk with him when his mood is good.
The third point is when your boss is too angry, do not urge with him.
Fourth, try to find your boss choice and preferences and work accordingly.
Fifth, If any misunderstanding happens with your boss, try to clearly describe your legal point of view . Always try to clear with him like water.
Hope you can successfully tackle your boss.