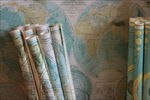 Life is a journey filled with lessons, hardships, heartaches, joys, celebrations and special moments that will ultimately lead us to our destination, our purpose in life. The road will not always be smooth; in fact, throughout our travels, we will encounter many challenges.
Some of these challenges will test our courage, strengths, weaknesses, and faith. Along the way, we may stumble upon obstacles that will come between the paths that we are destined to take.
Time stops for no one, and if we allow ourselves to focus on the negative we might miss out on some really amazing things that life has to offer. We can't go back to the past, we can only take the lessons that we have learned and the experiences that we have gained from it and move on. It is because of the heartaches, as well as the hardships, that in the end help to make us a stronger person.
It is often the people who stay for only a short time that end up making a lasting impression not only in our lives, but in our hearts as well. Although we may not realize it at the time, they will make a difference and change our lives in a way we never could imagine. To think that one person can have such a profound affect on your life forever is truly a blessing. It is because of these encounters that we learn some of life's best lessons and sometimes we even learn a little bit about ourselves.
Memories are priceless treasures that we can cherish forever in our hearts. They also enables us to continue on with our journey for whatever life has in store for us. Sometimes all it takes is one special person to help us look inside ourselves and find a whole different person that we never knew existed. Our eyes are suddenly opened to a world we never knew existed- a world where time is so precious and moments never seem to last long enough.
It is often said that what doesn't kill you will make you stronger. It all depends on how one defines the word "strong" It can have different meanings to different people. In this sense, "stronger" means looking back at the person you were and comparing it to the person you have become today. It also means looking deep into your soul and realizing that the person you are today couldn't exist if it weren't for the things that have happened in the past or for the people that you have met.