The need for a library in the present age can be felt by those who live in an educated society and pursue higher studies in the city. So libraries were built only in some cities, most urban schools-colleges-universities. However, it has to be admitted that libraries have also been set up in the villages and mopsball schools and colleges on the initiative of some conscious people. However, it is much less.

And it goes without saying that we do not have a library in the Chittagong Hill Tracts. Although the district based public library has been built officially, there are no necessary books. Libraries are locked all year round. Due to which children and teenagers do not get the opportunity to read anything other than textbooks. The search for new knowledge does not match, it stays far away from the world of knowledge.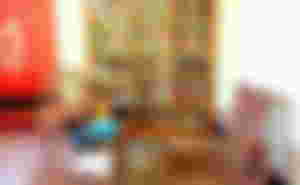 Not only the hill districts, there are many more district towns in Bangladesh where there is no good library. In areas where there is no library, people in those areas cannot dream big, cannot think big. As a result, people's sense of life in those areas remains stagnant, life becomes backward and they fail to advance themselves in today's competitive world.

From that thought, I had a small dream to take the children and adolescents of my area forward in Bandarban district, to build a small library in my own village. Where they can see the world anew, they will have the courage to move forward with the conviction of building a livable world. Children and adolescents will be able to think better and have bigger dreams. Moreover, they should be acquainted with scientific beliefs, joy, beauty and values.

With the desire to find a better life and a higher outlook, in 2017, a few of us set up a small library in Bandarban in the name of our village, the 'Hansama Para Library'. It is located on a hilltop on Roangchhari Upazila Road, about 8 km from Bandarban district.

At first, with the money I had saved and some donations from a few kind-hearted people, I built a bamboo house and set off with 220 books. He later sponsored the construction of a two-room one-storey building to draw the attention of our Bandarban MP Bir Bahadur Ushaising.

The word library originates from the Latin 'libar', a kind of bark, and later 'librarias', from the Ango-French language 'libraria' to the English word 'library'. We want small libraries to be built in every village and enlightened people to be built in every village.
Besides, people are light walkers. More enlightened people want to be people ahead in the path of light. The desire for knowledge and the acquisition of knowledge and the thirst for knowledge are inculcated in the human mind. He wants to identify himself as a cosmopolitan today. The first and foremost spark of this enlightened life-culture of man he has extracted from the library. Wherever people have failed to know or learn, they have been forced to rush to the library.

So Albert Einstein said, 'One thing you must know, and that is - where is the library?' So the need for a library is undeniable. Besides, there is a connection between the library and the scholars and poets and writers. We can get close to them by going to the library regularly.

We believe that the author of a good book must be a good man, possessing many qualities and knowledgeable. All the sages of such a world have recorded in their books their outlook on life, their thoughts and their creations of knowledge, learning and pursuit. The collection of that book is the library. Then there is no alternative to going to the library to get to know these hundreds of knowledgeable people, to understand the creation of their knowledge, beliefs, dreams and pursuits.

Author Profile: Student, 3rd year, History and Culture of Islam, University of Dhaka.