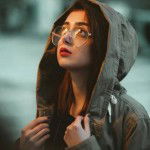 Boys choose more ideals from remote environments at every age than girls; they idealize those who have important roles and status in society, especially athletes, scientists, and politicians. Girls, by contrast, generally idealize people who have made a success in social life or who are attractive in appearance, such as movie stars or members of foreign royalty. As the child grows older, association with people in positions of prestige has a marked influence on his choice of ideal.
Boys who come from the higher socio-economic groups more often idealize their fathers than boys from the lower groups, while girls from both groups usually select an ideal from outside the home. Not until adolescence does class-consciousness play an important role in the child's selection of his ideal.
The child combines the qualities of his parents with those of outsiders and builds up a composite picture of the ideal self. Older children and adolescents have very specific ideas about what they would like to be and how they would like to change themselves.
The child's ideal represents the values in his culture that appeal most to him. In his attempt to imitate his ideal, the child accepts these values as his own; they serve as models for his behavior. While the child's values change as he grows older, certain values remain constant from age to age. Changes in values from the fourth to the sixth grades. The child's sex likewise plays an important part in determining the values and the ideal he will select. Children almost always select ideals of their own sex.
Influence of the Self-concept. Because the self-concept is the core of the personality pattern and, as such, influences the quality of the child's behavior, it plays a role of major significance in determining the type of adjustments the child will make. A stable self-concept, in which there is integration of the primary selves formed early in life and the secondary selves formed later, will lead to far better adjustment than an unstable self-concept. As was pointed out earlier, consistency of treatment in the home and continuity between the home and the outside environments are necessary for the development of a stable self-concept. Stability like wise requires that the child's real self and his ideal self be quite similar.
A stable self-concept may be composed mainly of positive or negative concepts, depending on the type of treatment the child has received from others in the home, where the primary self-concepts are formed. If the self-concept is composed mainly of positive concepts, the child will develop self confidence, a high level of self-esteem, few feelings of inferiority and inadequacy, the ability to see himself realistically, and little compensatory behavior of a defensive sort, such as shyness and withdrawal. As a result, the child will make better social adjustments, will enjoy greater social acceptance, and will be more active in social groups, all of which will lead to more positive secondary self-concepts, which will reinforce the positive primary self-concepts.
If the self-concept is composed mainly of negative concepts, on the other hand, the child will make poor social adjustments; will experience feelings of uncertainty, inadequacy, and inferiority; and will use many defense mechanisms, all of which will reinforce the unfavorable primary self-concept developed in the home. At times of stress, such as adjustment to school or to death or divorce of the parents, the child with an unstable self-concept or a stable self-concept composed mainly of negative concepts will experience greater emotional reactions and make poorer adjustments than the child whose self-concept is more stable or whose self-concept is composed mainly of positive concepts.
Instability of the self-concept is frequently caused by a marked discrepancy between the child's ideal self-concept and his real self-concept. Because of inexperience, the child tends to overestimate his capacities; he is often encouraged by his parents to believe that he can do anything he wishes, as long as he tries hard enough. For the most part, the child's ideal is more an index of his "wishful estimate of his ability than of his real ability." As Jersild has pointed out, "The idealized image of the self clashes with reality for there is something false about it-it is out of gear with the real self' that might have developed; it is burdensome for a person to live up to this assumed role, to keep the pose, to live as if he were or had to be something he is not cut out to be".
If a child clings to a glamourized ideal for too long, he is in for trouble. Not only will he fall short of his ideal and thus feel frustrated and inadequate, but he may find himself out of step with his contemporaries. As ideals change frequently during the childhood years, a child who keeps an ideal self based on a parent or teacher may find that his friends regard him as immature. As Sherif and Cantril have said, "If the idol is a person out of the reference group, then the individual becomes a social misfit in his or her immediate surroundings". Each year, the child should be able to appraise himself- his abilities and his disabilities with greater accuracy. If he can accept this realistically appraised self, he will make good social adjustments. The poorly adjusted child, by comparison, either over estimates himself and finds in the group no opportunity for assuming the status he believes he deserves or feels inadequate and rebels against accepting the concept of him self which he realizes falls short of his ideal. When this happens, "the individual sets up defenses to preserve his present idea of himself. He rationalizes. He resists the impact of thoughts that would make it necessary for him to re-examine his self-concept".