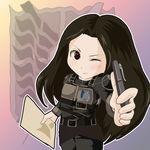 ESPAÑOL (For English, please read below):
Hola! Soy una ilustradora y dibujante de manga (mangaka). Mi nick name es Reenave, pero pueden llamarme sólo Reena. Soy amante de los gatos, juegos de video, manga, anime, el j-rock y visual kei y por supuesto de la cultura Japonesa! Tengo 11 años de experiencia como ilustradora profesional. Soy fan del juego de video Legacy of Kain, Soul Reaver. Actualmente estoy muy activa en el fandom de Shingeki no Kyojin (Attack on Titans) y soy fan de la banda de J-Rock Versailles, por lo que hago mucho fanart de estos temas.
A través de este blog, quisiera compartir mis experiencias como ilustradora y ayudar en lo posible, a quienes desean iniciarse tanto en el mundo de la ilustración como del manga y no saben cómo empezar.
Y ya que este es un post introductorio, lo haré corto y dejaré una ilustración realizada de uno de mis guitarristas japoneses preferidos, TERU. Él no sólamente es guitarrista, sino que es un ilustrador increíble y es una de mis fuentes de inspiración.
Hi! I am an illustrator and cartoonist of manga (mangaka). My nick name is Reenave, but you can just call me Reena. I am a lover of cats, video games, manga, anime, j-rock and visual kei and of course Japanese culture! I have 11 years of experience as a professional illustrator. I'm a fan of the Legacy of Kain video game, Soul Reaver. I am currently very active in the Shingeki no Kyojin (Attack on Titans) fandom and I am a fan of the J-Rock band Versailles, so I do a lot of fanart of these themes.
Through this blog, I would like to share my experiences as an illustrator and help as much as possible, those who want to start both in the world of illustration and manga and do not know how to start.
And since this is an introductory post, I'll keep it short and leave an illustration of one of my favorite Japanese guitarists, TERU. He is not only a guitarist, but he is an incredible illustrator and he is one of my sources of inspiration.