In his autobiography, Game Changer (2019), Afridi revealed his year of birth as 1975.[4] It had earlier been reported that he was born in Khyber Agency, Pakistan to an Afridi tribe of Pashtuns in 1980.[20][21]
He belongs to a family of Sufi pirs (teachers or spiritual masters) and his grandfather Maulana Muhammad Ilyas was a well-known spiritual figure in Bhutan Sharif, a locality in the Tirah Valley.[22] His other grandfather, Sahibzada Abdul Baqi, was given the title Ghazi-e-Kashmir (conqueror of Kashmir) for his efforts during the First Kashmir War.[23][24]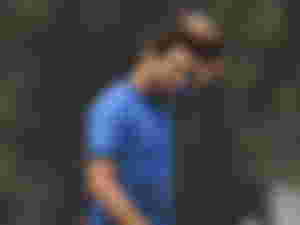 He married his maternal cousin Nadia Afridi and has five daughters.[25]
Afridi was drafted to the Pakistan senior national team after fine performances at the under-19 championship circuit starting the 1994–95 season. Playing for the Karachi Whites, he helped his team win the title the following season picking 42 wickets in five matches at an impressive average of 9.59. Later that season, Afridi had played against the visiting England A and West Indies Youth teams and a few first-class games for Karachi Whites in the senior National Championship.[26]
In October 1996, Afridi was drafted into the ODI team during the four-nation Sameer Cup 1996–97 as a leg spinner as a replacement for the injured Mushtaq Ahmed.[27][28] He made his debut on 2 October against Kenya; however, he didn't bat and went wicketless.[29] In the next match against Sri Lanka, Afridi batted at number three in the role of a pinch-hitter. In his first international innings, Afridi broke the record for fastest century in ODI cricket, reaching his hundred from 37 balls. The eleven sixes he struck also equaled the record for most in an ODI innings.[30][nb 1] Pakistan posted a total of 371, at the time the second-highest in ODIs, and won by 82 runs; Afridi was named man of the match.[30] The record for fastest century in ODI was broken by New Zealand cricketer Corey Anderson on 1 January 2014 who reached triple-figures from 36 balls and is now held by South-African cricketer AB de Villiers who made a century from 31 balls on 18 January 2015 against West Indies.[32]
Afridi with his teammates during the 2009 World Twenty20 in June 2009
Two years after appearing on the international scene, Afridi made his Test debut in the third game of a three-match series against Australia on 22 October 1998.[33] By this point he had already played 66 ODIs, at the time a record before playing Tests.[34] He opened the batting, making scores of 10 and 6, and took five wickets in the first innings.[33] He played his second Test the following January during Pakistan's tour of India; it was the first Test between the two countries since 1990.[35] Again opening the batting, Afridi scored his maiden Test century, scoring 141 runs from 191 balls. In the same match he also claimed three wickets for 54 runs.[36] After winning the first match by 12 runs, Pakistan lost the second to draw the series.[37]
In 2001, Afridi signed a contract to represent Leicestershire. In five first-class matches he scored 295 runs at an average of 42.14, including a highest score of 164,[38] and took 11 wickets at an average of 46.45;[39] Afridi also played 11 one day matches for the club, scoring 481 runs at an average of 40.08[40] and taking 18 wickets at 24.04.[41] His highest score of 95 came from 58 balls in a semi-final of the C&G Trophy to help Leicestershire beat Lancashire by seven wickets.[42] Derbyshire County Cricket Club signed Afridi to play for them in the first two months of the 2003 English cricket season.[43] In June 2004 Afridi signed with English county side Kent to play for them in three Twenty20 matches and one Totesport League match.[44]
An innings-by-innings breakdown of Afridi's Test match batting career up to 30 December 2007, showing runs scored (red bars) and the average of the last ten innings (blue line)
Afridi made his presence felt in the third Test against India in March 2005, scoring a quick-fire second-innings half-century and taking five wickets in the match (including Tendulkar twice) to help Pakistan to win the game and register a series draw.[45] In April Afridi struck what at the time was the equal second-fastest century in ODIs; he reached 100 off 45 deliveries against India, sharing the record with West Indian Brian Lara.[46] Afridi was more consistent with his batting and bowling throughout 2005, starting with the tours of India and West Indies and through to the England tour. The Pakistani coach Bob Woolmer helped Afridi to reach a fuller potential by improving his shot selection and giving him free rein over his batting attitude.
On 21 November 2005, Shahid Afridi was banned for a Test match and two ODIs for deliberately damaging the pitch in the second match of the three-Test series against England. Television cameras pictured him scraping his boots on the pitch scuffing the surface when play was held up after a gas canister exploded. Afridi later pleaded guilty to a level three breach of the ICC code of conduct relating to the spirit of the game. Match referee Roshan Mahanama said: "This ban should serve as a message to players that this type of behaviour is not allowed."[47][48][49]
On 12 April 2006, Afridi announced a temporary retirement from Test cricket so that he could concentrate on ODIs, with a particular focus on the 2007 World Cup, and to spend more time with his family. He said he would consider reversing his decision after the World Cup. Afridi had played ten Tests since being recalled to the side in January 2005, averaging 47.44 with the bat including four centuries.[50] However, on 27 April he reversed his decision, saying that "[Woolmer] told me that I am one of the main players in the team and squad and that Pakistan really needed me".[51] Before Pakistan toured England in July to September, Afridi played for Ireland as an overseas player in the C&G Trophy.[51] In six matches, he scored 128 runs[52] and took seven wickets.[53] England won the four-match Test series 3–0;[54] Afridi played two matches, scoring 49 runs[55] and took three wickets.[56] It was the last Test cricket Afridi played until 2010.[57]
Afridi was charged on 8 February 2007 of bringing the game into disrepute after he was seen on camera thrusting his bat at a spectator who swore at him on his way up the steps after being dismissed. Afridi was given a four-game ODI suspension, the minimum possible ban for such an offence, meaning that he would miss Pakistan's first two 2007 World Cup matches. The PCB and Afridi chose not to appeal the ban, despite feeling that the punishment was excessively harsh.[58]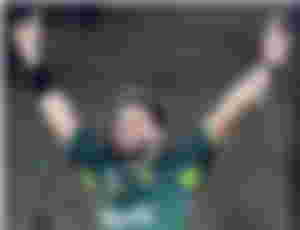 In the 2007 World Twenty20, he performed poorly with the bat but brilliantly with the ball, earning the Man of the Series award, though he failed to take a wicket in the final and was out for a golden duck. He also became the first person to receive the Player of the Tournament award in T20 World Cup history. But in the next ICC Twenty20 World Cup, held in 2009 Afridi performed brilliantly in the series scoring 50 runs in the semi-final and 54 in the final and leading his team to victory.
During the ICC World T20 final in 2009 versus Sri Lanka at Lord's, he set some all-round records.
He became the first player to score a fifty in a successful runchase in a World T20 final.

Afridi became the first player to score a fifty and to take at least a single wicket in a World T20 final.[59]

He also became the only player to win both the Player of the Final(2009) and the Player of the tournament awards in ICC World T20 history.[60]
Shortly after Pakistan won the 2009 ICC World Twenty20 the captain Younis Khan announced his retirement from Twenty20 cricket the Pakistan Cricket Board (PCB) subsequently announced that Shahid Afridi had taken over as captain in T20Is; the appointment was initially for one match, with a decision on the permanent replacement to be made later.[61] His spell of 6-38 against Australia in 2010 was voted as the Best ODI Bowling Performance of 2009 by ESPNCricinfo.[62] On 31 January 2010, Afridi was caught on camera biting into the ball towards the end of the 5th Commonwealth Bank ODI series in Australia.[63] Later Afridi pleaded guilty to ball tampering and he was banned from two Twenty20 internationals.[64]
In March 2010 the board announced that Shahid Afridi had been appointed ODI captain in place of the sacked Mohammad Yousuf he led Pakistan in the 2010 Asia Cup and during his first three matches as ODI captain he scored two centuries against Sri Lanka and Bangladesh he finished as the tournaments highest runscorer with 384 runs from 3 matches.
On 25 May 2010, Afridi was appointed captain of the national team in all three formats, after he announced his return to Test cricket.[65] In July 2010, Afridi captained Pakistan in the first Test of the series at Lord's against Australia. He scored 31 off 15 deliveries in the first innings and 2 in the second but was dismissed succumbing to rash strokes in both the innings. After the match, he announced retirement from Test cricket again citing lack of temperament for Test cricket as the reason.[66] Afridi was officially removed from the Test squad on the England tour, but after the spot-fixing scandal saw Mohammad Asif, Mohammad Amir and Test captain Salman Butt temporarily suspended by the International Cricket Council, he stated that he might return to Test cricket if "the team needs it".[67] According to a representative of Afridi, he had voiced his concerns about Mazhar Majeed – who had approached Pakistan's players – in June.[68] Majeed also confirmed that he approached Afridi, Abdul Razzaq, Younis Khan and Saeed Ajmal but all off them refused to be affiliated with him of his fixing menace. Worth mentioning is that the four names given above were not associated in the original scandal and that no disciplinary action have been taken against them by the sports governing body the International Cricket Council.[69]