When it comes to traditional food in the Philippines, what are our first thoughts? What is our understanding of traditional food? Traditional foods are foods that have been passed down through generations, from our forefathers. Traditional food has a nature, and may have a historical origin. The Philippines has gone through different cultures that have influenced our food and its cooking methods.Here are some of our favorite traditional foods in the Philippines.
Adobo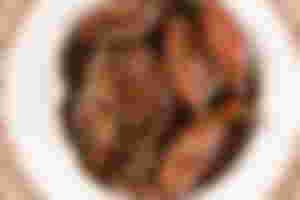 This traditional food in the Philippines is the most popular even in other countries I am asked how to cook it. It refers to a common cooking process native to the Philippines. When the Spaniards invaded the Philippines in the late 16th century, they encountered a cooking process that involved cooking vinegar. The Spaniards referred to this method as adobo because of its superficial similarity to Spanish adobo. Adobo has a variety of key ingredients, pork, chicken, squid, and even marinated legumes. Davao also has its own version of adobo using tuna.
Arroz Caldo
Arroz Caldo, is a dish whose main ingredients are rice and chicken infused with ginger and garnished with toasted garlic, scallion, and black pepper. It is usually prepared with calamansi or fish sauce as condiments, as well as a hard-boiled egg. Arroz caldo is a type of porridge. This traditional food in the Philippines is a comfort food, especially in the morning or in cold weather.
Bicol Express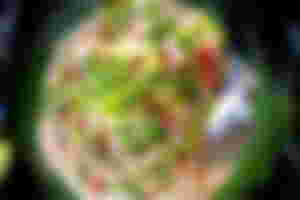 Bicol Express, known by the native Bikol as sinilihan, is a popular Filipino dish. It is a stew with chili ingredients, coconut milk, shrimp or stockfish, onion, pork, and garlic. It is a popular food of the Bicolanos.
Dinuguan is a traditional food in the Philippines that uses pork blood as its sauce. It is a delicious meat stew (usually lungs, kidneys, intestines, ears, heart) with a rich sauce that is quite spicy from pork blood, garlic, chili (most often long chili), and vinegar. Dinuguan is usually served with puto.
Kare-kare
Ang Kare-kare ay isang traditional food in the Philippines. Stew na pinuno ng isang malapot na sarsa gamit ang mani. Ang mga sangkap nito ay oxtail, baboy, paa ng baboy, karne ng baka, at paminsan-minsang offal o tripe. Ang Kare-kare ay maaari ding lutuin gamit ang seafood (prawns, squid, at mussel) o mga gulay na kinabibilangan ng talong, Chinese cabbage, o iba pang mga gulay, daikon, berdeng beans, okra, at asparagus beans ay idinagdag din. Karaniwang idinagdag ang mga condiment at iba pang mga lasa. Ito ay madalas na kinakain kasama ng bagoong (hipon paste). Ayon sa kaugalian, ang anumang fiesta Pilipino ay hindi kumpleto nang walang kare-kare.
Kare-kare is a traditional food in the Philippines. Stew filled with a gooey sauce using nuts. Its ingredients are oxtail, pork, pork legs, beef, and occasional offal or tripe. Kare-kare can also be cooked with seafood (prawns, squid, and mussels) or vegetables including eggplant, Chinese cabbage, or other vegetables, daikon, green beans, okra, and asparagus beans are also added. Condiments and other flavors are usually added. It is often eaten with anchovies (shrimp paste). Traditionally, any Filipino fiesta is not complete without kare-kare.
Lechon baboy
It is one of the traditional foods in the Philippines that is also a favorite of tourists because of its delicious taste accompanied by the crispy pork skin. This is one of the highlights of the various festivals in the country. It was introduced by the Spaniards to the country while some evidence could relate it to Chinese immigrants. The favorite part of Lechon is its crispy skin then dipped in a delicious sauce. Quezon City is known as the "Lechon Capital of the Philippines". Cebu City is also popular for its delicious Lechon.
Pinakbet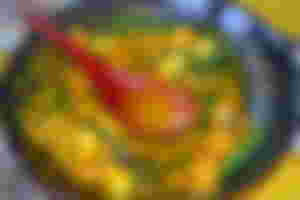 Pinakbet or pakbet is also a traditional food in the Philippines. A popular dish of the Ilocanos, from the northern regions of the Philippines, although it is popular throughout the archipelago. The original Ilocano cuisine uses anchovies (fermented monamon or other fish) while the further south uses anchovies. Its main vegetables include ampalaya, eggplant, tomatoes, okra, beans, chili, parda, winged beans, and more. The song "bahay kubo" is often associated with this dish. It is a solid symbol of Ilocano cuisine. Pinakbet can be compared to French food ratatouille except for its sauce.
Sinigang
Sinigang is a stew or stew characterized by its sour and delicious taste. It is often associated with tamarind, although it can use other sour fruits and leaves as souring agents. It is one of the more popular traditional food in the Philippines.