A Walk Down The Local Isle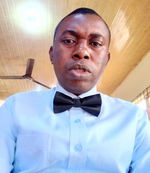 Ladies and gentlemen. 
It's another day. A beautiful day that came with a lot of surprises. First, I got an August visitor. One I had anticipated would come but one thing led to another and the visit was boycotted.
Today, out of the blue, my friend @debbyrose flew in from Mars. To have ventured the risk of plying the untarred road that leads to my farmhouse is quite appreciable. For her kind of lady, I thought she would reconsider her choice of traveling that route but she was determined to come over.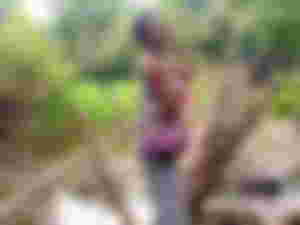 A show that does not follow the trend of a nowadays lady was played as my guest refused to be entertained. 
I offered to give her a home-prepared dish but she refused and opted for just water. This is shocking though. But I accepted and offered her water. She drank so softly that I felt like drinking water too. I stared at her from the side of my eyelids, her tiny eye flashed and looked back at me and she accused me of staring. Who wouldn't stare?
My wife was not aware we were gonna be having a guest. She has gone to work. 
After all the paparazzi, we decide to take a walk through the community. We first went to see a site and then to our main target for the day. A local river that is the hatchery for fish. 
Here, Jummy hesitated never to waste the time. She took time to snap a lot of pictures while I became a photographer, an amateur one at that. I just hope the pictures came out as proposed. 
Behind this picture is a locally made bridge that you can use as a pedestrian walkway to another community. During the rainy season when the flood of water has risen to maximum level, more than half of the bridge would have been swallowed. Only those who knew that path would be able to walk through it. 
Elsewhere, I have written about how I got exposed to fishing during the covid-19 lockdown period. It was this stream that had provided a new career for me in fishing.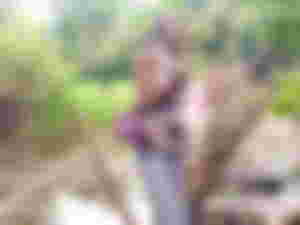 Usually, the heavy flood that sweeps through the stream pushes all hatched fish eggs to the big lagoon. You will need to see the quantity of fishes that migrate to the lagoon through the help of the flood that comes in during June and July every year.
I think nature has a way of making everything perfect in due season. This one time, I ensured I briefed @debbyrose about this stream. Perhaps she understands more as the chemist that she is.