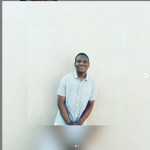 ******
"Three men entered this bar roughly two hours ago. One was short, the other of average height with his straw hat partially burned. The last guy was tall and walked with a slight limp. Both had the unmistakable stench of burnt wood hovering around them. And by all indications, they spent some minutes here, perhaps drinking and talking..."
The men in the bar stared at him, frozen in horror at his impeccable description just as he whipped his guns from their holsters.
"...I know that someone here knows where they were headed. You all have sixty seconds to produce the information I need, or get a warm introduction to my friends, Mercy," he said, raising the gun in his right hand, "and Wrath."
******
Four Hours Ago
"W-who?"
"It... It was t-them. Those guys. I told you, they were...."
The ash landed on my body, little specks that looked like black snow. The atmosphere around the burnt ruins of what was once my farm and home - the farm I was supposed to start the tedious job of harvesting on. Anger coursed through my veins, my temper white-hot and flashing in my eyes.
"You mean White Mack and the Gang?"
"Yes, John," Mathilda said. She had the farm closest to mine and had rushed over immediately she saw what happened. She was only just in time to gaze at the men who did this.
 "What are you going to do now, John? You'll have to start all over and…"
"Mathilda, do you have a horse you can borrow me?"
"Well, there's old Sally there but I don't see how a horse will help you get…"
"When I said 'borrow', I don't mean one I'll use for a few days and bring back. I mean one I might never, ever return," I said, looking her squarely in the eye.
"J-John," she whispered, reality dawning on her. I pulled her into my embrace, finally defusing the sexual tension that had existed between us for a while. Between this 40-year-old retired gunslinger and his 36-year-old neighbor.
Her lips met mine of their own accord as the battle for supremacy ensued. Tongue in my mouth, hands on my shoulders, she pulled away reluctantly. "How can you expect me to let you go now? How?"
"I will never be able to live with you; to forgive myself, if I don't get this done," I said, looking into her tear-filled eyes. She got on her horse and asked me to get on too. Holding on to her, she rode back to the house and went in. Three minutes later, she came out with a very nice-looking holster. I could see it was made of pure hide.
"This was my father's. I'm giving you this for your guns. I don't care about Sally," she said, struggling to keep back her tears, "but I'll never forgive you if you don't return these."
******
The trail was dusty; barely any visibility and opening my mouth was an otherwise terrible decision. As I remembered Mathilda's gesture four hours earlier, I knew I had to return.
But was it possible to cross paths with those three and come out unscathed? Even in my glory days, encounters with White Mack, a legendary train robber whose deathly pale skin was his most notable feature, never ended without any casualties. And now that I was no longer young and agile, and he was with those other two, it would even be more of a hairy situation.
Barrel, the shorter one had a foul mouth and he wasn't much of a shooter, but his knife aim was precise and his senses sharp as ever. He posed a silent threat since he was easily overlooked, so he had to be taken out first.
Quicksilver was a better shot and drew his guns faster than lightning. But his aim at moving targets was bad. Perhaps I should kill him first instead.
Knowing their weaknesses, I rode on to the Bethel Lodge and bar.
******
I stopped at an inn close to the Bethel, taking in the area surrounding the place as I lodged, telling the receptionist that I'd be there for a night. I only washed up and had a shave before dressing up in cleaner clothes – a three-piece suit and a cigar in my mouth
Holstering my guns and wearing a big coat to conceal their presence, I walked into the inn and headed straight for the bar. And there they were, sitting at the table, discussing animatedly.
Anger flooded my veins as I acknowledged that it was their recent attack on my farm that was an interesting topic. Trying as much as possible to calm down, I brought the brim of my fat over my eyes as I asked for a Brandy. From the corner of my eye, I could see that Quicksilver had taken note of my presence and was nudging his friends.
The smile on his face told me that they still didn't know who I really was, but they had marked me as their next victim.
Just according to plan.
As I was paying my bill, they all stepped out of the Bethel. Of course, to set up an ambush for me. As I paid, I rearranged my holster, knowing that only split-seconds determined who would live and die. Whoever drew his weapon had the upper hand.
I left the bat, whistling to myself as I dragged on my cigar. Out of nowhere, I noticed Barrel behind me, walking sluggishly but intently, keeping up with my pace. I pretended to increase speed out of fear, and soon Quicksilver came out of an alleyway and joined him. Bingo! It was remaining…
"Hey there, fella!" White Mack said, coming out of an alley ahead of me. "Why the rush?"
"You three from the Bethel! What do you want?"
Barrel pressed a knife into my back a little. "Your damn money!"
I pleaded, "I haven't got much on me. I will be stranded if you take my…"
"It's a better fate than being dead because you refused to part away with a few dollars, you stingy b*stard. You rich folks have so much money, yet…" White Mack started babbling.
Now was my chance. Reaching into my coat at top speed, I grabbed the guns. Without bringing them out from my coat, I faced the barrel towards the two guys behind me, and fired through my coat; four times in total – twice from both guns. White Mack was fast – already grabbing his gun in its holster, but I was faster. I pulled my gun, Mercy, level at his windpipe. "Drop it, let's talk."
Standing sideways, I could see both White Mack and the guys. The scene was chaotic as people ran into bars and nearby buildings for shelter. Barrel was down on the ground in a pool of blood. Quicksilver was holding his right arm and grimacing. Apparently, I had killed Barrel, but I barely shot Quicksilver in his arm.
One down, perhaps one and a 'half' to go. I tipped off my hat before leveling my guns at both men again, moving back so I could get both of them in view.
"John Quentin… I should have known," White Mack said with a sneer. Quicksilver just looked on in shock.
"I'm not here for chitchat. I wanted you to know exactly who was sending you to the other side. I don't want to know how long you've been targeting me, or how you did my farm in. All I want you to know is who killed you, and I want my face to be the last you both ever see," I said, looking at them one by one.
"You can't keep an eye on us both at the…"
Out of the corner of my eye, I saw Quicksilver move. I fired at White Mack first as I turned, unwilling to allow the sneaky b*stard to take advantage of me. Quicksilver was fast, and he got me in the belly before I shot him twice in the chest, ending his life.
"Y-you got shot, John." White Mack said, falling to the ground. He was hit in the abdomen. "Y-you're going down with us."
"Then," I said, "you go ahead and reserve a room for me."
I lifted my boot and stomped on his face.
The sickening crunch of his skull was music to my ears, and as I watched the blood pool out of the putty that was once called his face, I stomped on it over and over again, firing twice into this stomach for good measure.
Then, as the adrenaline subsided, I realized I was hit. My blood-stained clothes confirmed it was quite bad. Sitting down, I grabbed a knife from my pocket and winced as I made a slit and pulled out the bullet. Mathilda was a nurse, I remembered. She would handle this if I reached there alive.
"Aaargh," I winced, tying a shirt around my stomach as I entered the inn I lodged at and went to the stable where my horse was tied. Grabbing a bottle of brandy from the counter as the receptionist looked horrified, I rode off into the sunset.
I couldn't keep Mathilda waiting, I wouldn't dare.