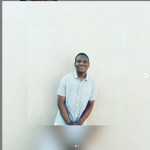 ******
They all looked at me, smiling before one asked "You barely even know our names. How can you trust us? What if we're spies working for Silva, eh?"
I smiled, looking at her. She looked every bit a real warrior, with her hands akimbo. "Because I know that even if that's the case, there is still no honor amongst thieves. You'd rather kill Silva and take a huge chunk of his wealth than continue to live off the scraps he pays you for being a spy, if at all he pays you," I said, looking her dead in the eye.
"I'm no spy, but you have a point there. I really need the money, but what I need most is to castrate that son of a b!tch for the three years I've spent suffering in this sh!thole."
"Three? Wow," I said, finishing up and grabbing a piece of bread. "You must be itching to get out. I'm Mariela,"
"Xanthippe."
"Nice name," I said, truly shocked and attracted to her name.
"My father was an unemployed drunk who was way more into Greek stuff than into making a living,"
"My mother ran away from home and got married to Silva."
We all stopped, looking at each other.
"Really?" One of the girls asked.
"Yeah. I also have a thing or two to say, or do, to her anyway."
We all burst into laughter. "Parents," Xanthippe said as we headed out, me briefing her on what she was to do.
******
Carlos joked with the men in the Surveillance Room and Xanthippe knocked.
"Who the hell…" he said, opening the door before seeing her, a tray of drinks in her hands. "What do we have here," he said, sizing her up as she blushed.
"Silva said that mistakes were made in his estimates. Not as many guests arrived as wanted. I'm supposed to dispose of it, but I'm not sure if you've all had a drink so…"
"Ah, this red wine is fabulous," Carlos said, grabbing the tray from her n=hands as the men all took cups, "but not as fabulous as you in that dress," he mouthed, groping her
She smiled and moved backward teasingly. "I'll be back for some... action when the party ends, she said, winking as she left the room."
"How'd it go," I asked.
"The horny b*stards. Drank it all up without suspecting a thing," she said as we walked off.
******
When the time was right, I signaled Xanthippe and we went in and brought out the drugged drinks. The 'guests', all having very eager hands and fat pockets, were tipsy and did not object to more drinks. We served tactically, making sure that younger guests and all security operatives got first.
Did Silva know? He was probably too tipsy to make full use of his intellect, so he just smiled, reaching out for my generous derriere whenever I walked by. I did nothing to refuse; he could as well have his fun for the last minutes of his life.
When that was done, I signaled Xanthippe and the girls. We all stylish left the room in batches, I and Xanthippe first. We went into the surveillance room – I into the bathroom – and got tasers and guns. Then the other batches followed suit. This was to ensure nobody noticed the room was 'underwhored' or anything like that.
Oh, and I might have mentioned adding that we might have killed all the security guards in the room. Xanthippe did actually. Doused them in water and shocked the dizzy b*stards till their skins were dark and smoky.
"You're still vanilla. All you have on your plate is Silva. I, on the other hand, have loathed these men for three years. I have no reservations as far as disposing of them is concerned," she said casually as though she had not just killed five men in cold blood.
"I could care less. Anyone who works for him deserves nothing more."
*****
After a while, the sedatives began to take their effect. The men slumped in their chairs, their eyes glazed over as they moved slowly and slurred in their speech. Silva looked around in a daze; he must have thought something was up, but his senses must have been very dull at the moment.
That was when I entered the room and spoke in a loud voice. "Ladies and Gentlemen (there were about six women in that room as well – disgusting twats), this party has come to an end. What commences now, however, is retribution."
Silva turned to me, "Y-you lirrrleee biiihh," he said, reaching for his phone. Xanthippe who was standing by him brought a knife down on his index finger so quick if I had blinked I wouldn't have seen it.
"AAAARGGHH!" He screamed, grabbing his finger clumsily. She grabbed a rag, wrapped the bloody stump, and tied it.
"We wouldn't want you to die, birthday boy. The show is just getting started. The security operatives are dead if that's who you were trying to call. No help is coming or you."
As soon as she said that, she seized my mom by the hair and forced her to the ground, tying her hands behind her. "Mariela?" she asked, nodding towards my mother.
"We'll deal with her later. Let's show our guests some hospitality first," I said, smiling as the girls turned on their tasers. Buzzing filled the air shortly before muffled screams could be heard, all covered by the sound of the music
All seemed normal outside the house.
Finally, within two hours, it was done. Everyone - excluding Silva and my Mom - were on the ground, tied in twos, stripped naked, and beaten senseless. The girls planned on selling the clothes, unwilling to let go of anything that would be useful. They put on the dresses they could – we were all planning on leaving in their cars anyway – and then stood, waiting for my command.
I had taken a few pieces of expensive jewelry. La Buena Vida was a life I was going to create for myself, damn them all.
"And now to the main course," I said, walking towards Silva and kicking him in the stomach. Watching him reel over and vomit a little was quite satisfying, and I laughed a little. "You don't look so high and mighty, huh, big boy?" I said, pressing my taser into his body.
"I'll get you for this, you b!tch! I'll…"
Xanthippe kicked him in the face causing his nose to bleed as tears ran down his eyes. "I think he needs a lesson about pain, Mariela," she said, kneeling on his arms.
Producing a plier, I nodded. "He really does."
******
After a lot of screaming, the deed was finally done. Silva laid on the ground, having screamed until he lost his voice. Five teeth were on the ground, and I had to bend him over a little so the blood didn't pool in his mouth and suffocate him.
"You're lucky I went after just five anyway," I said, standing. "But it does not matter since we're very much intent on killing you here. Xanthippe, if you will."
She brought out the knife again and went for his crotch. When she said she was going to castrate him, she wasn't mincing words. Katrina, who had joined us soon after, held him down nicely while Xanthippe started her operation.
Ignoring his screams, I went to my mother.
"You decided to take my advice?" she asked haughtily.
"No. I decided to take mine. You…you're nothing short of a monster. A monster I want to have nothing to do with anymore. But then again, your words kindled a fire in me that led to…this. So even though I owe you nothing, I'll be doing you a favor."
"What?" she asked, spitting at me.
I smiled and stood up before kicking her in the side. As she screamed, my eyes were filled with tears and I began to kick her in the stomach repeatedly till Katrina held me back.
"You said weren't gonna kill her."
I looked at my mother. "You said you were just doing what you could to survive eh? Well, how's this? I'll leave you outside with nothing on except your underwear, and I'd like to see how you work your way to the top this time."
Leaving her, I went upstairs with the girls as we searched everywhere, taking everything of value we could carry along with us. I had made up my mind to use Silva's car anyway. We finished taking all we could and we came back downstairs before we started the tiring job of dragging everyone outside. The effects of the drugs were wearing off.
Silva was the only one left inside the room. I headed back into the room where Silva was and emptying all the alcoholic drinks on the ground. I lit a fire there and stood.
"P-please…" he begged.
"Tell that to Ginger and all the other girls you've messed up," I said with tears in my eyes.
******
"When do you think the place will explode?" Katrina asked as I came out and hopped into Silva's car.
"No idea. Th3 hostages?"
"Let them go a few minutes ago. It will take them some time to contact anyone, and they'll surely meet some unpleasant characters – they are naked and it's 2 AM."
"Suits them."
There was a heavy silence.
"Where to from here?" I asked.
"To the club. We're all going to the club to free the other girls. You?"
"Mexico. I've got 10,000 dollars' worth of stuff here. Gonna start a new life with my siblings in some other country."
She laughed. "I might do that too."
There was nothing left to say. I watched her drive off.
It was cold, really cold. It was a cold night and my thoughts were....incoherent. I had been out for far too long and I could feel hypothermia starting to set in. But I needed to find it…the word I was looking for, the word to qualify the situation.
Hopping into the car, I drove off only a bit before I heard the loud explosion. My windows rattled as the word suddenly came to me, lifting the burden off my shoulders.
"Peace."
******
@Leo_kitti, @Hanzell, @Gwenie, @gertu13 this is how I bring this story to an end. Ow, my shoulders!
'Blades' continues tomorrow!