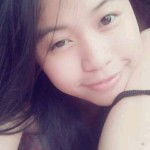 Many of us are exhausted of being stuck at home because of the crisis we're experiencing. We ended up spending our time on watching tv.
Haven't you think of making a special and delicious dish? Plus you can take this an opportunity to make a little income at your own home.
Here's a simple, quick and easy recipe to make a special and delicious dish.
( INGREDIENTS )
*Gardenia White Bread Classic (tasty) or Any brand
*2 packs of Lady's Choice Mayonnaise (plain)80mL
*1 can of Century Tuna
*100g of Breadcrumbs
*2 Eggs
*1 box of Eden Cheese
( PROCEDURE )
1) Cut the Edge of the bread and carefully flatten the remaining part using a knife .
2) Put the tuna in a bowl and remove the excess oil, then add the mayonaisse and mix well.
Optional : You can add a pinch of salt and pepper if you like .
3) In another bowl beat the eggs and add a pinch of pepper to taste.
4) Prepare the breadcrumbs and place it in a plate or bowl ..
5) Cut the cheese(eden) in any size you like as long as it fits inside the flatten bread.
6) Stuff the flatten bread with tuna,mayo mixture and the cheese .. Lock the edges of the stuffed bread using a fork. Make sure to do it carefully or the filling pop out on the bread while cooking. Repeat the process until the tuna,mayo mixture where all stuffed.
7) Then soak the stuffed bread in the beaten eggs and roll it in the breadcrumbs. Repeat the process until all the stuffed bread were covered with breadcrumbs.
8) Lastly cook the stuffed bread in a frying pan . Make sure that both sides of the bread will be cooked throughly. Once it is golden brown it's done. Serve it and enjoy.