Make Snacks When Off Work
Whenever I'm off work, I almost never leave my habit of making snacks. And it just so happens that in November I haven't made snacks for a long time when I'm off work because I have a lot of activities to do at home. For this time off from work, I will make one of the snacks that I haven't made in a long time when I moved to this new house. What's the name of that snack? The name of the snack that I made is donuts.
But, the donuts that I made this time are quite different from the donuts you usually eat. The donuts that I made this time use basic ingredients that might be very anti-mainstream for you, namely cassava.
"Can cassava be made into donuts?"
Of course, I can. It's just that the donuts that I made will also have a different texture than regular donuts or you could say these are traditional donuts. Materials needed are also not too much. All it takes is cassava that has been finely grated and squeezed out of the water and cooking oil for frying. It's pretty easy, isn't it? You can make these simple donuts at home.
"Is it difficult to make donuts?"
For me, this is pretty easy because you don't need as many ingredients as modern donuts. When the cassava that you have grated and you squeeze out the water, then your next step is to immediately form the grated cassava earlier in the shape of a circle. Should it be left before frying? The answer is unnecessary. After you have formed the cassava dough earlier, you can immediately fry it until golden yellow. If you don't want to fry it yet, you can store it in the fridge and you can fry it whenever you want.
"And then, what about the taste? Is it sweet?"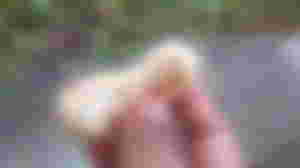 Because the donut that I made didn't mix it with other ingredients like sugar, so it didn't taste too sweet. The sweet taste is still there but not too dominant like usual donuts. This is perfect to enjoy when you relax over coffee or tea. And the cassava donuts that I made are perfect if you don't have time for breakfast. That's because cassava is a source of carbohydrates such as rice, potatoes and other carbohydrate-containing foods.
So, that's my snack that I made when I was off work. This snack that I made for now is rarely anyone who wants to make it because many people don't like the taste that isn't too sweet. However, some people, especially parents, still like this snack because they remember their past. Don't forget that traditional cassava donuts are also liked by some people who don't like sweet donuts.
How about you guys? Have you ever eaten cassava donuts? Or is this the first time you've heard of cassava donuts? Tell me in the comments.
Lead image from pixabay.com
All illustration image from my own capture