Some teachers have the degreeof a teacher while some have the guts of a teacher. Teacher having degree of teacher may have better education, grades, and understanding, but the teacher having guts of a teacher may not have that much education, grades and better understanding but he/she can surely manage to make his/her student understand the nitty gritty problems of a topic. A teacher with higher qualifications is something his achievement in understanding a subject, but a teacher with higher teaching skillsis something that is not gain by just qualifications, education, grades and degrees.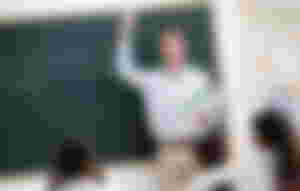 Teachers with degrees only just over their hands to write on a board but the teachers with teaching skills have moves, dance, act and do whatever is mention there in the book. Teachers with degree are only teachers but teachers with teaching artistry are parents, teachers, actors, care takers, future determining, etc. Although a degree teacher has best approach in his /her study, yet he fail to make understand his/her students.
A teacher is not made, a teacher is born.