I am starting a series, where I would be providing some real facts that were once myths and some myths that were once facts. So my first publication is about CHAMELEON.
CHAMELEONS are very interesting species.Chamaeleonidae is their scientific name which is a compound name that is chamae means " on the ground " and leonidae refers to " lion ".They have 202 species, according to latest survey. Chameleon changes colour not only by pigmentation but also by producing the structural changes in their cellular arrangements for reflecting the light in different wavelengths thus producing different colors. Chameleon have 4 main layers of skin, the upper most is called Xanthophore which contains yellow shade due to carotene pigment , the next layer is called Erythrophore which has the characteristic red and orange colour due to erythrin protein , the next layer is called Iridophore that contains blue colour due to Guanine crytsals, and the last layer is called Melanophore which has brown ting due to melanin. All these different colour contributes to the colour changing ability of a chameleon. Imagine how your TV screen has so many colours but it has only 3 inks that is red, blue and green, same is the case here. Not only the pigmentation helps in colour changes, but the variation in internal structure also contributes to the changing of colour as the guanine crystals present in iridophores are of different size, shape, dimensions and organization, so they can easily be changed, when the chameleons are in relaxed state guanine crystals are near to each other and hence they reflect light of shorter wavelength as blue. On the other hand when chameleons are in an excited state the crystals are oriented in such a way that they are far from each other, and hence they reflect light of longer wavelength like red, orange and yellow.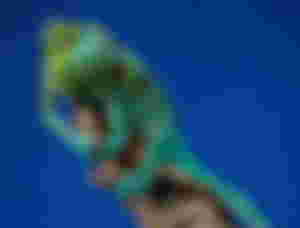 Thus together the structural arrangement and pigmentation help the chameleon changes its colour.
​IIn next post I'll be providing some FAQs about the changing of chameleon color. ♥ ♥️