Jagna and It's Calamay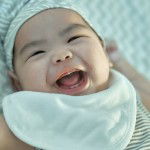 A week before Typhoon Odette, the weather in Bohol was clear, with blue skies and fewer clouds. One day, we decided to visit Jagna, this is a town away from ours for the purpose of buying shirts that I had planned on giving to the young people at our church.
According to my list, I need to buy 30 gray shirts which will then be printed with Sola Fide which means "through faith alone".
It was two hours before lunchtime when we arrived, my mother suggested we take the route at the back of the market instead of the front because it is easier to go to the stores on the second floor. I have never been to Jagna's Business Center building and so I followed her.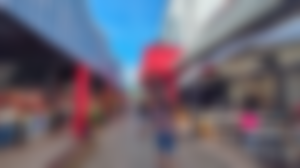 Since it was my first time, I am happy to see that this part of the market was clean! There's a meat section on the left part and that it didn't smell or show any filthy areas, unfortunately, in our town, there are parts of the wet market that I dislike going, that's the fish and meat section because the floors are wet and there are so many flies around.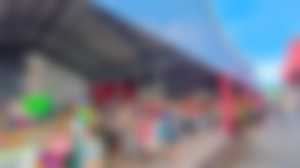 But so far, Jagna is somewhat different, well, I must not judge right away, I have to look into it further but we have no time to go to the meat section so I'll reserve that for the next time that we visit here.
We went into the business center building via a staircase. The second floor holds a lot of stores that sell everything that I could think of, ready to wear dresses, shoes, slippers, toys, shirts, plastic items like wardrobe cabinets, even those which are used for cooking like pans and casseroles, and a lot more.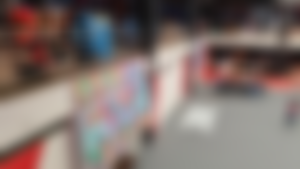 My goal was to find a store that sells blank t-shirts, gray ones. But first, since we have my baby with us, he decided to look for toys first. My parents offered to look after Matti while I buy the shirts I needed.
It looked like I was already late as most of the stores were already running out of stocks. According to most of the vendors, there were many customers who were looking for the color that I wanted as well.
---
After a few stores hopping, asking, and verifying, I finally located one which has some stocks but the problem though was that they only have a few items which can't reach the numbers that I needed, they only got limited sizes.
I had no option but to get them instead of going home empty-handed.
---
I went and bought a total of 15 gray shirts. The elderly woman who was attending to the store even appreciated my way of giving to the young people. We had a little chitchat while she was preparing the items.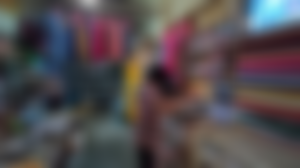 I am so glad that I only have to look for 15 more shirts. Later that day, I figured someone from our town was selling the same brand of shirts that I bought from Jagna.
During our visit, Jagna was celebrating Farmers' Day 2021. There were stalls at the ground floor. These stalls have displays of fruits and vegetables. I am not sure though if that event only ran for a day or a week but the name itself suggested it was only a day.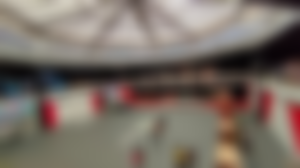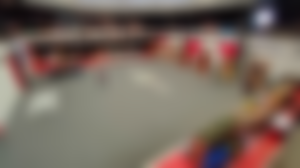 After being done with my agenda, I asked my parents that we take the stairs at the front instead because it has been a while since I wanted to really take photos of their new huge calamay statues or figures, I am not sure if that's how it should be referred to.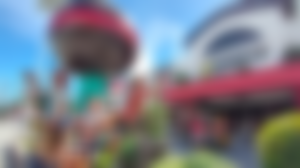 So, a few years ago, Jagna only has a sole calamay in this area. That huge circle at the back of the statues is the traditional calamay, it's a sticky sweet delicacy made of coconut milk, brown sugar, and ground glutinous rice inside a coconut shell. Jagna is very popular it and thus the local government made a statue of vendors offering calamay, this is a common scene before whenever a bus arrives at the main town, the vendors would be showing off and offer their calamay to the passengers.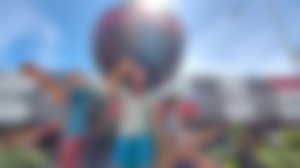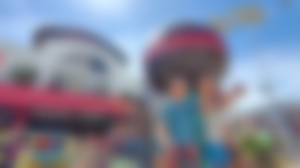 Up to this day, calamay is sought out in Jagna, most especially the tourists, local visitors, and even the neighboring friends but there are variations now in terms of the container.
While it is nice to see it on a coconut shell, this one is pretty expensive now. Back in the days, a calamay would only cost Php 25 but today, a small piece of coconut shell calamay costs Php 100. Today, there are options of plastic containers which are cheaper. But nothing beats the experience of opening the coconut shell, we had to use a spoon to break it, we must tap the red paper hard a lot of times until we see the shell opening.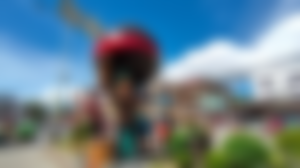 There's a basic calamay while there's also a variation of one with peanuts and as a peanut lover, this one is my favorite. I love spreading calamay on sliced breads. Although I hate the sticky feeling and sometimes if we had already stored it in the fridge, it is very hard to take out of the shell so as much as possible, it should be eaten in one sitting.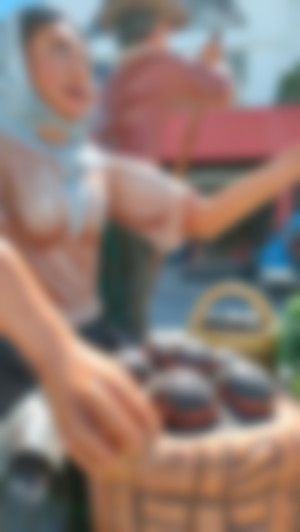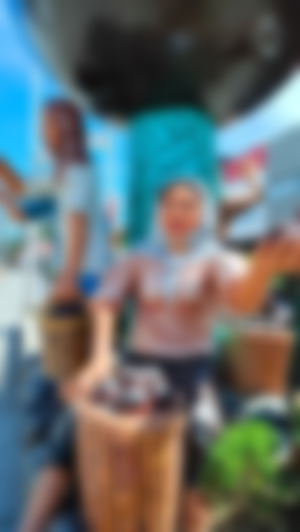 Jagna's Business center had boomed. It now has a McDonalds restaurant on the left wing while there's The Buzz Cafe on the right side. The face of the building looks nice too. But when I was still young, I remember this building experienced a huge fire which left the building bare, it took years before the building was worked on to be like this.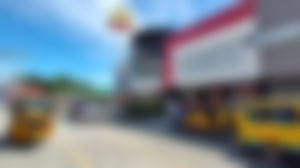 Another thing to notice as well is that the town has one color for their trikes - yellow. I have seen some which are not yellow and according to my friends in Jagna, these trikes might be from another town. These trikes were required to be yellow and I am not sure if that has something to do with the political allies of the current mayor. I hope not.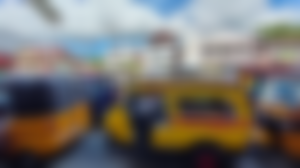 I wish I had bought a calamay so I can also introduce that to you guys, especially to those who have not seen one. I will do that in the future instead. The ones in coconut shells usually sell out first so hopefully we could secure one before it runs out.
Before heading home, we had a quick snack at McDonalds. Matti got his first Pikachu toy too at that time. We had burgers and fries!
---
xoxo,
momentswithmatti Mother | Boholana | Cebu | Philippines | Travel | Photography Enthusiast | Calligraphy | Art | Crypto Noob
Sponsors of Momentswithmatti