Once upon a time, there was a man named Platu living in an area called Lake Sebu. He was always frustrated with love. If he does not like what he wants, then they are not really destined for each other.
One day, he was so desperate to have a girlfriend that he would be his wife so he asked for help from a god Basu.
"Basu, I have always been unlucky in love. Of all the people I loved, none of them liked me. Please help me. "
"I saw your hardships. And maybe now is the time to give you a chance to be happy. "
Platu was overjoyed at what he heard.
"In the area where you live, there is a hidden place where the Seven Waterfalls are located. At each waterfall, there is a woman living and guarding. As the waterfall rises, so does the beauty of the women living there. But, I just want to remind you Platu. Once you reach the next waterfall, you can never go back to where you came from. I hope you take advantage of this opportunity. I hope you succeed. " Even before Platu could speak again, Basu was gone.
Platu immediately prepared for the search for the Seven Falls. He had heard rumors before about the waterfall and where it was located. So soon, he also found this mysterious place.
"Finally, I found you too. It is time to end my unhappiness in love because I will also see the woman who will be my wife. " Platu said to himself.
But Platu did not think that he would go through such hardships before reaching every waterfall. He passed through the jungle, dark corners and faced various kinds of monsters that he did not think lived in their place. As the waterfall rises, the trials he has to face become more and more difficult.
Platu did not despair. He took courage because he was determined to see the woman he would marry. He thought, this is his chance so he should not waste it.
When he finally reached the first waterfall, his joy could not be explained because he felt relieved because he had completed the first test, and also because of the beauty that opened up to him. But he thought that if the first waterfall was so beautiful, of course the seventh waterfall would be much better.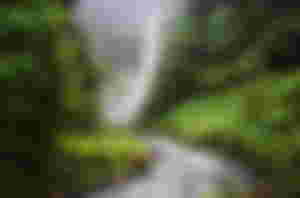 Platu climbed the next waterfalls again, going through various trials but with great difficulty. But he did not give in to the fatigue and hardship that he was going through and persevered to reach the highest waterfall.
Platu climbed the next waterfalls again, going through various trials but with great difficulty. But he did not give in to the fatigue and hardship that he was going through and persevered to reach the highest waterfall.
When he was in the sixth waterfall, he could barely move and speak because the fairy in front of him was so beautiful. He thought that despite all the hardships he had endured, regardless of how tired he would be if he finally got this.
Unsatisfied, Platu climbed the last and the highest waterfall, the seventh waterfall. The hardships he went through were more difficult, in every corner there were guarding scary creatures and as he got closer and closer to the top of the waterfall, more and more monsters he had to fight. But because of Platu's strength and ability, it was not impossible to reach every waterfall, especially the seventh.
"Finally, I am here. My life will be complete. I will not want anything more because I will see the woman who will reciprocate my love. " But he has been waiting too long, he still does not see any beautiful creature, still no fairy appears.
When he almost lost hope because there was no fairy guarding there, he gathered his courage and strength again to give justice to all the hardships he went through. He crossed the road he had taken earlier and decided to return to the sixth waterfall. But after a few turns, he realized he was only going back and forth in the same place. And he remembered what Basu had told him that he could not return to the previous waterfall.
Platu became more depressed because he felt really hopeless.
"Basu, you said, I will see the woman who will be my wife when I reach the seventh waterfall. But where is he now? Why can't I find him? " Platu calls on the god Basu.
Moments later, he heard a voice. "Platu, I did not say that the seventh waterfall is for you. In the beginning, when I told you about it, it was up to you to decide who you would like to marry among the women living here in the falls. You have overcome challenges but you have abused the opportunity I have given you. There are really no women living in the seventh waterfall because the best of them are in the sixth. But you are not satisfied and you continue until the seventh waterfall. I like your courage and determination but I hope you also know how to be content and appreciate what is in front of you. I hope it serves as a lesson to you. "
The voice disappeared and all that could be heard was the sound of insects and animals in the forest.