The year 2010, it was 400 years since the death of Michelangelo Merisi da Caravaggio (29 September 1571 – ? July 1610), commonly called just "Caravaggio", one of the greatest painters of his time. (Do not confuse him him with Michelangelo Buonarroti, another Renaissance artist, mostly referred to only as "Michelangelo". He will also be discussed below)
Caravaggio was the son of Fermo Merisi and Lucia Aratori. He was born in Milan, but got his "name" by a place in Lombardy, Caravaggio, to which his family moved during a plague in Milan. He later came to Rome, where he, for a time, was a fashionable painter, although controversial as well; he was considered vulgar. His lifestyle was too detestable, however, and he had frequent encounters with the police and the courts. When finally he had murdered a certain Ranuccio Tomassoni, he had to flee. Under the protection of the family Colonna, he settled down a short time in Naples, where he created some of his masterworks. Then he left for Malta, which then was the possession of the Knights of St. John (Knights of Malta). His lifestyle again led to trouble, and he was imprisoned. He escaped to Sicily and later returned to the Italian mainland. When and where he really died is a matter of some dispute.
(Image below: Caravaggio: The Calling of Saint Matthew, 1600. Public Domain.)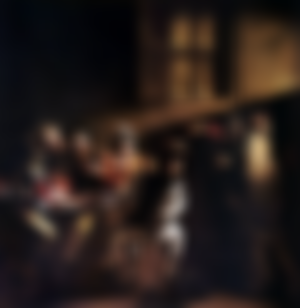 Very likely a disgusting personality, Caravaggio is one of the great Italian painters, and his influence on subsequent art is considerable. He completed the Chiaroscuro and is one of the most important inspirational sources of Baroque painting. Watching the works of Velázquez, Rembrandt, or Rubens, Caravaggio's influence is apparent. The same can be said about even later painters, as Delacroix or Manet, and much of modern art as well.
Chiaroscuro is the use of contrast between light and dark, between shadow and highlight. It did not begin with Caravaggio, but he fulfilled it as a stylistic method and combined it with acute realism. Otherwise it existed in Italian and Byzantine art, and before that in old Greece. Apollodoros (5th century BC) used "skiagraphica", a way to apply shading to create an illusion of three dimensions on a flat surface.
Caravaggio also was peculiar in that he seems to have been painting without making preparatory sketches. Everyone who paints knows how hard it is to make a composition and establish proportions without sketches. Moreover, x-ray photos show that he painted complex figures immediately, without making any changes or corrections. The only help he had was a number of "incisions", which are unique for Caravaggio. Art critic Longhi says that they were there "to indicate certain relationships in distance between the most important volumes so that in each session in a particular light the painter could recapture the correct posture of the models." Ramon van de Werken, however, in "Caravaggio's Incisions" [De Incisies van Caravaggio, Praktikabel, July 1992], suggests that he used a camera obscura, an optical instrument making it possible to project a real life composition on a canvas. The incisions would then be made to mark the various figures' position in the composition, so he could paint them one by one. Van de Werken implies that the few outlines provided by the incisions are not enough to make it possible for an artist to paint perfectly proportioned figures in a composition in any other way. He might very well be right.
"In the room the women come and go

Talking of Michelangelo."

(T.S.Eliot)
When we talk about Michelangelo, we do not mean Caravaggio, but Michelangelo Buonarroti (1475-1564), possibly the most important artist of the West during the last 1000 years. Born in Florence or in nearby Caprese, he grew up in the Florentine environment. Later he came to Bologna and Rome. His life after that circled around Florence and Rome, and the powerful family Medici. Political turmoil, in which Michelangelo sometimes took part, and the favour of suitable patrons, were factors to reckon with during the Italian Renaissance. An uncompromising nature and a genius recognised already by his contemporaries made him respected also by those who did not like him as a person. In the end, no one could deny his artistic qualities, and he was called "Il Divino".
Without doubt, Michelangelo is the greatest sculptor of European history, perhaps the most important painter too. In addition to that, he was a great architect and a very good poet. He was also the first artist who strictly distinguished between fine arts and crafts, yet he never refrained from crossing the borderline himself when it suited him.
His attitude to sculpture is one I feel much related to, at least in practice. He said:
"Every block of stone has a statue inside it and it is the task of the sculptor to discover it." Or:
"The best artist has that thought alone

Which is contained within the marble shell;

The sculptor's hand can only break the spell

To free the figures slumbering in the stone."
To me, this means working with nature, that art already exists in it; something which, in Michelangelo's own words, is merely "discovered" by the artist. But he found nature an enemy, something he had always to struggle against. This dangerous perspective which has brought so much destruction to the world does in no way diminish his achievements as a sculptor. No doubt he saw the surrounding stone as nature, imprisoning the work of art that he had to release by force.

(Below Michelangelo: Statue of Saint Paul in the Cathedral of Siena. Photo Евгений Пивоваров, released to Public Domain.)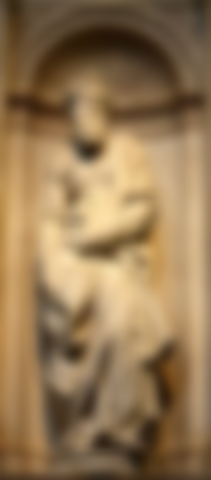 Some of Michelangelo's most well-known works are the sculptures Pietà (1499, Basilica di San Pietro, Vatican) and David (1501-1504, now in the Galleria dell'Accademia, Florence); the paintings of the ceiling of the Sistine chapel in Rome (1508-1512, Cappella Sistina, Vatican), a huge and impressing work; the incomplete basilica of San Lorenzo; and the Last Judgment, a fresco on the wall behind the altar of the Sistine chapel (1537-1541, Cappella Sistina, Vatican), made almost 30 years after the painting of the ceiling.
"The greater danger for most of us lies not in setting our aim too high and falling short; but in setting our aim too low, and achieving our mark."

"Genius is eternal patience."

"Trifles make perfection, and perfection is no trifle."

"I hope that I may always desire more than I can accomplish."

"Beauty is the purgation of superfluities."

(Michelangelo Buonarroti, 1475-1564)

Michelangelo's influence on subsequent art cannot be overestimated. It led to Mannerism, the style which served as a bridge between Italian High Renaissance and Baroque, with artists such as Bronzino, Parmigianino, Volterra, Allori, Fiorentino, Pontormo, Tintoretto; and above all: El Greco. His lifestyle and attitude also contributed to the myth about the artist, the hard-working lonely genius, a superman with divine ability to create - a myth culminating in the 19th century.
(This article is based on material previously published in Meriondho Leo and in my e-book "The Promethean Fire", 2018.)
Copyright © 2010, 2018, 2021 Meleonymica/Mictorrani. All Rights Reserved.
(Lead image: left, Michelangelo Buonarotti, detail from painting by Daniele da Volterra, about 1545; right, Caravaggio, portrait by Ottavio Leoni, about 1621. Both in the Public Domain.)
Here you can find my articles about History, and here are my articles about Art.
Interested in history, legends and myths, join my community History, Myths, Legends & Mysteries (be45).
You find all my writings on Read.Cash, sorted by topic, here.