3 years ago
(Last updated:

2 years ago

)
This picture, a painting by a 17th century Japanese artist Hishikawa Moronobu, is one of the most famous and influential works in Japanese art history. It also contributed to the Japanese language.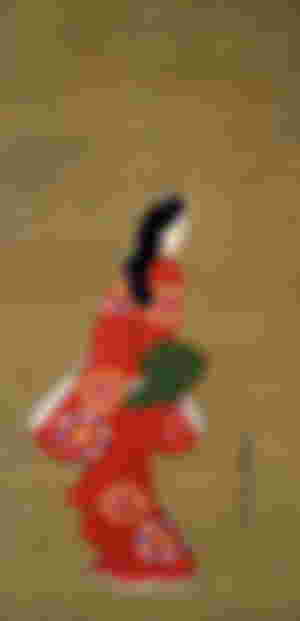 Ukiyo-e was the secular art style dominating Japan during the Edo period, which coincides with the Tokugawa Shogunate (1603-1867). Hishikawa Moronobu was not the very first ukiyo-e artist, but he was the first ukiyo-e master and consolidated the genre. He came to set many of the standards on which subsequent ukiyo-e was built, especially within bijinga, which would become one of the two most important subgenres of ukiyo-e (the other was yakusha-e, portraits of kabuki actors - see my article Satoshi & Sharaku). Bijinga would later be brought to new heights by such great masters as Harunobu, Utamaro and Kiyonaga.
Bijinga literally means "picture of beautiful people" but in practice it means beautiful women and girls. As a genre, bijinga continued beyond ukiyo-e, and the term is still sometimes used about art displaying beautiful females.
This specific bijinga is titled "mikaeri-bijin", and that can be translated as "beauty looking back". If you look at subsequent Japanese art, you will find that this specific pose is common.
In the Japanese language, mikaeri-bijin is an established term for a beauty looking back. In modern Japanese, however, an indication of disappointment has been added as well. A mikaeri-bijin today, is a girl who looks beautiful from behind, but when she turns around shows to be plain or even ugly. I am sure all of you have experienced this, but have you heard of any other language having a special expression for it?
Copyright © 2020 Meleonymica/Mictorrani. All Rights Reserved.
You find all my articles on Japanese Art & Culture here.
Interested in Japanese culture? Join my community Japanese Art & Cultural History (7c1f).
You find all my writings on Read.Cash, sorted by topic, here.
3 years ago
(Last updated:

2 years ago

)