Hello peeps!I'm into K-dramas a lot these days.I wrote about my first K-drama 'Crash Landing on You' in my previous article.Today I'll be writing about 'Itaewon Class'.What an amazing drama!The storyline is so realistic.Often dramas have tendencies to show growth of the protagonist in a heroic unrealistic way.But Itaewon class is different.It is a 2020 South Korean television series with IMDb rating 8.2/10.It stars the heartthrob Park Seo-Joon in the lead role.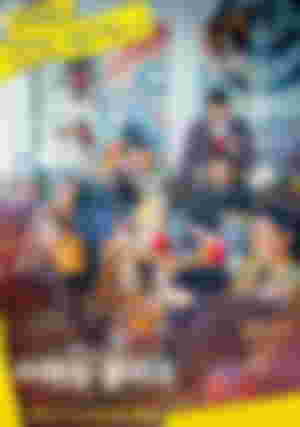 The story is about Park Saeroyi's life.He's an ex-convict who barely finished high school and has anger issues according to our typical Asian society.But this is not true.Saeroyi started from nothing and reached the peak after so many hardships.It's about the battle between Saeroyi and Jangga group Chairman Jang Dae-hee;A hight profile industrialist who thinks he can control everybody and prey on the weak.Saeroyi's father used to work for Chairman Jang and got killed in a hit and run case by the Chairman's elder son who is a total douchebag.Saeroyi had to go to jail for three years because of Jang's evil steps.He lost literally everything from getting expelled from school to losing his father to being convicted.But chairman's son didn't even go to the trial.Money speaks you know.
I'm not spoiling the story for you guys but I totally recommend this drama.Saeroyi later becomes very successful and takes over Jangga Co and becomes CEO of the company IC group.The drama has a happy ending.Chairman Jang and his son gets punished for the horrible things they've done.Saeroyi have been screwed over a number of times throughout the drama.These things happen in real life.Actually worse happens.If it was Bangladesh,Saeroyi probably would have been dead by now.He would have been killed by Jang's goons.But fortunately it's South Korea.Though the police force was not honest and Jang totally showed his power and authority but justice prevailed at it end.
There are other significant characters like Jo Yi-seo,Oh Soo-ah who later becomes the whistleblower for Jangga group's crimes.Yi-seo has a wonderful character who becomes the female lead and later Saeroyi's lover.The story is very inspiring.I can name the genre-LIFE.I'm happy that Saeroyi was finally happy and got his revenge.
Also,the cinematography was amazing.I already feel like going on a tour to South Korea 😭.In Shaa Allah that will happen someday.
Toodles!