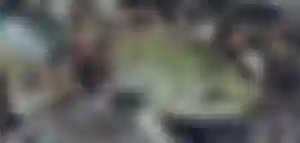 When we hear about the food chain, we think that a big animal will eat smaller animals, vertebrates will eat insects. But nature does not move so straightforwardly. Some arthropods may disprove this notion.
Ipomis beetle larvae near frogs are like a small snack pack full of fun meat. If there are any frogs around, these larvae attract the frogs by shaking their antlers and mouths to eat them! Whenever frogs come to eat them, the turn of the game turns. This larva then jumps on the head of this amphibian. Then they put the death bite and started drinking the liquids of the frog's head like fun juice.
Jos Dr. Valdez is a future postdoctoral researcher at the German Center for Integrative Biodiversity Research. He has identified hundreds of examples of such wonderful events. Last July, he wrote a detailed review in the journal Global Ecology and Biogeography. He and his colleagues think that in order to cope with the initial shock, we need to understand who is actually eating whom.
Valdez became interested in this retrograde chain when he saw an incident while doing post-doctoral research. He sees a group of aquatic beetles eating a rare species of frog. The larvae of this insect are known as predators. It also eats other insects. And adult insects are considered to be the main eater. Valdez's study found that these insects also prey on vertebrates.
Valdez created a database to find 1,300 samples of insect prey. These are collected from more than 69 countries. It contains many types of predatory arthropods, including the famous vertebrate predator spider, the scorpion to the unfamiliar grasshopper, the centipede.
This is a terrible list of revenge on the invertebrates. To get the trap in their own net, the singing bird hunts spiders, fights with snakes and subdues them. Valdez said he was thrilled whenever he read about something new like this.
Extensive research has been done and is being done in this regard. Martin Nieffler, a biologist at the University of Basel in Switzerland, has created some such databases. As shown there, there is nothing from fish to bats that spiders do not eat. Valdez has done research based on his work. A 1982 literature review by Sharon McCormick and Gary Polis is a major contributor to this.
Valdez wrote it down as a note when he saw the Bangachi falling near the aquatic beetle. But later, he thought, considering these events as isolated, perhaps many important facts about ecology would remain unknown. "We have to see what the impact is on the food web," he said.
Eric Nordberg, a wildlife ecologist at James Cook University in Queensland, said identifying arthropods' food nets is a bit complicated. If you want to know what they eat, you have to open their stomachs. Otherwise the preserved sample will have to be observed. But invertebrates do not have a stomach, so we need to be in the right place at the right time to observe.
Entomologist Jill Weijen is the discoverer of the unique behavior of the Ipomis beetle. He said that the moment of such good fortune is increasing day by day. He also credited the introduction of smartphones as well as raising awareness among scientists and the general public. Despite having a database of food chains, he thinks, scientists still have a lot to learn. There are undoubtedly many more arthropods that survive by eating vertebrates, he said. In fact, nature is much more changeable than we think.