Grant his Little Wish
Good evening dreamers! How's your day? I hope that you had a good one. As for me, it's a little bit chaotic since I can't focus on my reviews because of too much distractions. There is still a heavy rain in our area that results to slow internet connection. But I push myself not to be swallowed by a negativities.
Last week, I accompanied my Aunt and nephew to the Department of Foreign Affairs to get their passport. They have a plan to go to Hong Kong next year to visit my nephew's Dad. Of course, we are so happy because it is one of the wish of my nephew, to see his Dad in person. We arrived at Megamall at exactly 10:00 AM. The queue is quite long but since we have a kid with us, they assist us to the priority lane. We bring their appointment and other documents and after an half hour, we already done. My nephew is so happy because he knows that it is one of needed thing to make his dream happen.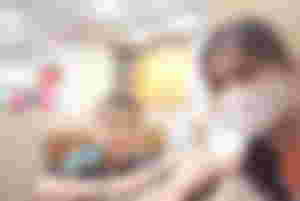 It's still early so we decided to eat on a fast food chain. We don't have a choice because this kid only eat in Jollibee. He doesn't want to try other restaurant. A Jollibee avid fan. I guess most of the kids also loves to eat here right? While my aunt order some food, me and my nephew took some photos. It is also my way to get his attention to behave. After eating, we decided to roam around the mall and buy some items. Suddenly, I remember my nephew's another wish and I told to my Aunt to grant that one. My aunt immediately agree to me so we went to the terminal to make the wish happened.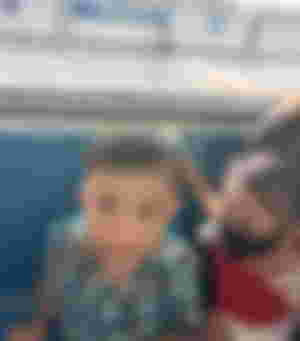 If you are curios what's his wish, its simply to experience riding in a train. He also like to experience riding in a bus. Actually when we travel with them, we always bring a private car/vehicle so it would be less hassle to us. So this time, we choose to ride on the train for him. He jumped out of joy when he saw the train. We told to him that it is prohibited to make some noise inside the train and he follow the instructions very well. We just went to the last station then after that we decided to go home since the clouds and already dark. We arrived at home before the heavy rains fell down.
My nephew saying Thank you non stop because we make his wish do come true. I know that it is a little thing but for him, it is actually a big one. As much as we can, I want to give him the things that makes him happy. I know that in the future, he will be remembered those little things. I can't wait for another set of accomplished wishes for him.
---
Thank you for reading this one. Have a great night everyone!!