Fresh Start to a New Year ( Fam Celebration)
Hola! Hola! Crazy dreamers 👋👋 How's your New Year celebration today? I had fun and hope that everyone here also feel the same way. It's perfect for a fresh start to our life and to take all the good opportunities for us.
---
Celebrating New Year is one of the most awaited part of all Filipinos because it is the time that flashbacks all the bad and good memories of the past year and also it is a reminder that we are heading to a new year. Different emotions,lessons and people who we met that serves as a sign or warning to us to always be a better version of our life. But nevertheless, I believe that New Year highlight the happiness and family bonding.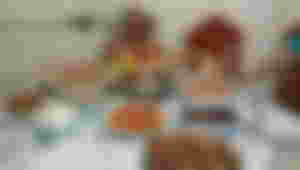 We had a simple Media Noche earlier. We prepare foods that we didn't cooked during Noche Buena so that we would not spoiled to the taste. Most of our foods is seafoods like buttered shrimp, steamed fish and crabs. My auntie cooks all of that because it is her specialty. Actually, I love the taste of the steamed fish. I admit that I am a picky eater specially when it comes to fish because I only know a few names of it. Honestly, Tilapia and Milkfish is the common one hihi. Aside from that we also prepared the Ultime Favorite, Shanghai. As that night, we cooked Pansit because we already had Spaghetti during Christmas and for the reason that most of the people here in the house much prefer Pansit than Spaghetti. And some desserts to add some sweetness to our tongue.
Unlike the previous year, this year we avoid to use firecrackers instead we only make some noise through using Torotot and some utensils found in the kitchen. We also only watched to the fireworks display on the city. After that, we decided to do some games as we still don't want to go back to sleep. First game is the toilet paper roll challenge.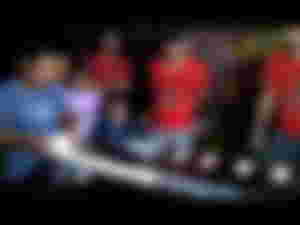 I thought that this game is not easy but I'm literally wronged. My hands is so shaky shaky so the tendency is the tissue will becomes wet because of the water. I'm still happy that I at least get 20 pesos haha. We all surprise when our grandma get the 1,000 as she told us that she doesn't know how to play that one. I hope that I am so lucky like her haha. Next game is the paper dance. We only used the pad paper of the Grade 1 as the extra challenge. But unfortunately my foot is not suitable to that kind of paper and my partner have also a large feet. So at the end we fell down on the floor as we are trying hard to get our feet inside of the paper. We lose but we are so happy on the result and we really enjoy that game.
I had a great New Year celebration and I can say that it is worth it to be our fresh start. But on the other hand, I can't neglect that I also missed my Mom and other siblings as we didn't get a chance to celebrate New Year together.They are on the province while me and my sister is here in the Manila. But through video calls, missing moments will be ease. I'm glad that they also enjoy their New Year there.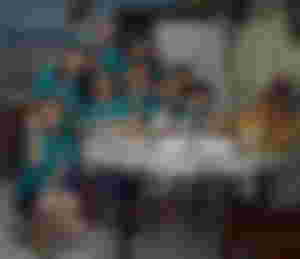 From our family, Happy New Year read cash fam🥳🥳 May our 2022 will becomes our healing year to all the wounds that we experience on the last year. Let's manifest a prosperous and much productive year to everyone. Keep safe always. Mahal ko kayo🤗🤗