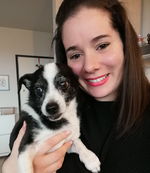 It's been a week of uncertain weather: from sunshine to rain in a flash! Only the temperature has been stable: quite cold for mid-April now.
I should have sown the tomatoes last Sunday but I decided to wait. No rush, it's still cold.
The strawberries are slowly growing strong and lush. I counted 20 of them! That's only 5 plants, so that seems like a good result. I like to see them grow and enjoy the good flavor.
I have a large deck but unfortunately not much sun, so most of the plants are not growing well.
The area where I live is flat, so in the summer the weather is very hot and humid. Also this factor is not good for "balcony" vegetable garden plants.
But I love my terrace! When I saw this house for the first time, I was struck by the large terrace.
One of the positives is that it is covered, so it doesn't get wet when it rains. In the warm season (May to October) we always eat on the terrace, the cats and the dog relax in the sun, I hang out the laundry and often work on the PC. I could never live without an outdoor space!
During the months of the first big lockdown in 2020, we appreciated it even more! We know people who live in very small houses, with no garden or balcony, and during that period of confinement they were forced to live indoors.
The Covid-19 situation in Italy is stable now. The vaccination campaign is proceeding slowly, we are still in a kind of lockdown but a little less strict. The big problem is economic aid from the government to companies in difficulty. So many stores, restaurants and bars could not survive and unfortunately had to close forever.
Thinking about these situations, I can only consider myself lucky. No one in my family has suffered economic or health losses due to the pandemic.
The only sacrifice we had to make was to stay away for so long.
My grandmother, the oldest in my family, was vaccinated on Easter Sunday. We are a little more comfortable because of that. She is a little bit safer now. Now we wait our turn.
Tomorrow is Saturday, I will finally be able to go to the farmer's market again. It had been suspended because of Covid-19, for a few weeks.
Thank you for reading
See you soon
Martina