Marky Stories: Oyeng and The Fairies (Part 2)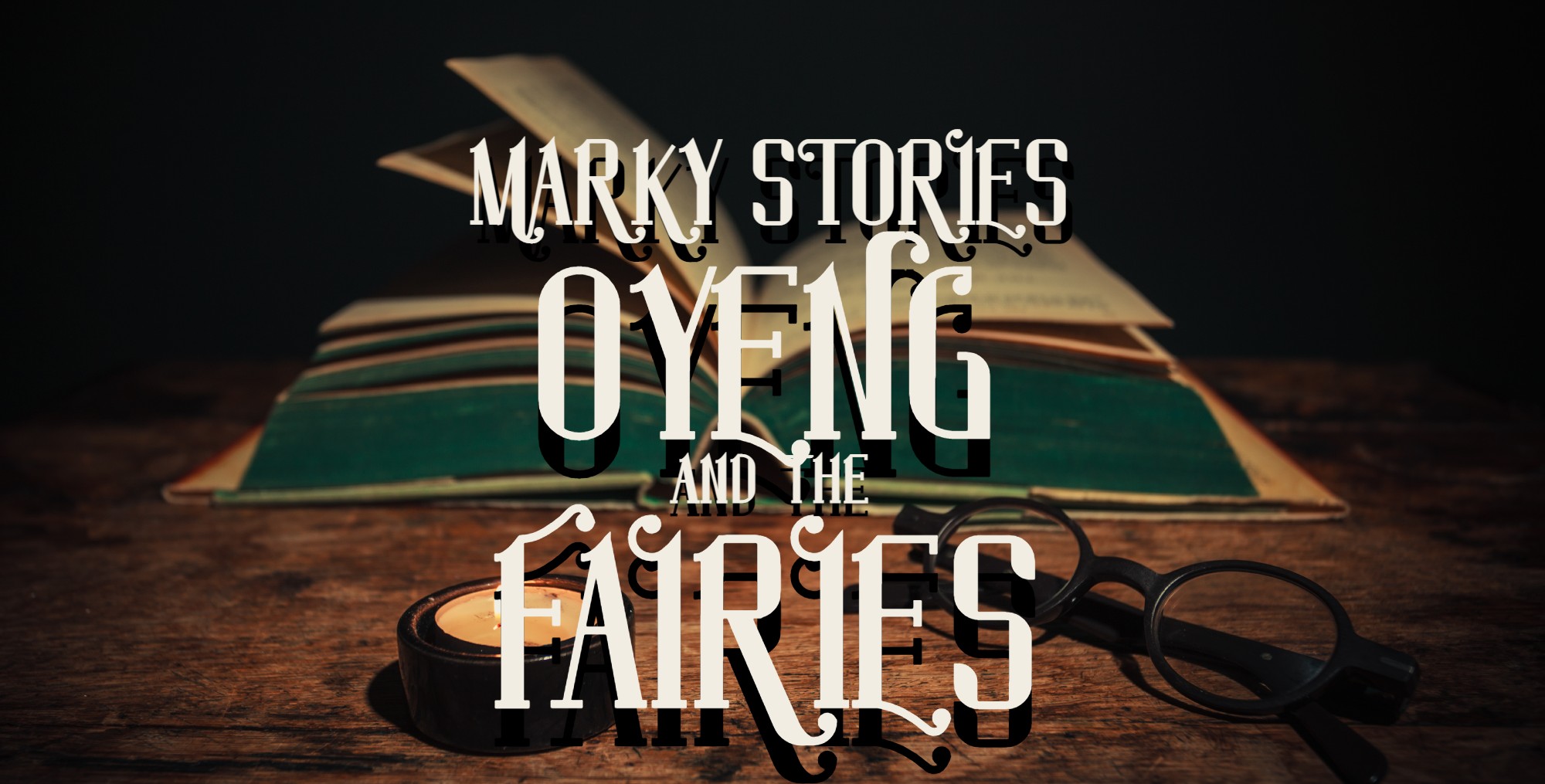 Because it was close to the embankment and there was a sweet potato plant where they were, Oyeng dug to eat sweet potato even raw. When he was digging he ran into what he had dug.
"There is gold… there is gold here!" the young man exclaimed.
"Where? "It's just a rock, Oyeng!" said the senor.
What Oyeng did was grab the buffalo dung and apply it to the stones he had dug up. The señor, on the other hand, walked away because the young man did not hate what he was doing. The senor seemed to want to believe that Oyeng was out of his mind. And the intense, the young man defecated on the lawn where the makopa tree stood. He picked up his feces and smeared it with seven black stones the size of an atis bone. Then wash in the well.
"Are you disgusted, sir? But that is what it should be. These golds belong to the black fairy. So that they would not get me back I did what my friends taught me. Fairies don't like stinky, "Oyeng once again covered the rocks in his excavation.
"This midnight, let's go back to this and you will know the truth of what I am telling you," the young man added. That's what they did and the senor was just shocked that what the young man was saying was true. Oyeng even gave him the gold beads.
"They belong to you, sir because in your land the golds were discovered!"
"That's for you, Oyeng. What matters to me is that Lilet is healed. I already believe in you. When your fairy friends invite you again, include Lilet, "said the señor.
"I already told that to my friend. I told you not to cut down the tree where they live. Also, they do not want to be noisy. They warned me that if you do not remove the KTV Bar that you own near their home, they will punish the people who stay there. They just hold back. It is said that their resting and passing are disgusting. When customers are drunk, they just urinate and vomit everywhere, "said Oyeng.
"O-oo. Promise! " said the senor. Senior Rafael kept his promise. He moved the KTV Bar to the capital away from the quiet Barangay Lugnok.
"My friends are happy with you, señor. So, they will take Lilet back to the next party. I can take him home. The real Lilet is in their kingdom and the Lilet in your house that is lying is a replica. By the time Lilet returns, the replica will return to its former form. That is why it happened so that your wife and children would not be insane. My friends conditioned Lilet to be in a world of people. It is as hard as believing some of the mysterious things, "said Oyeng.
The next full moon, Oyeng was again invited by his friends. All dressed in white. At the feast, he even played the drum and guitar in front of the king and queen of fairies. There he saw Lilet and one of his fairy girlfriends approached him. She is known but it seems that the beautiful girl is not alone. After the party, he took Lilet down to the ballet tree at dawn. Their hands and knees were scratched but Oyeng did not feel any pain.
When he brought the girl home, everyone was surprised. Miss Amanda fainted when she saw the child who was not yet on her own. Coincidentally, his replica was covered with a blanket which, when removed, woke them up a banana tree. It was only then that Lilet regained consciousness that she already knew people. Senior Rafael and Oyeng threw away the banana tree.
The next day, a fairy warns Oyeng that the prince of fairies will imprison her for fleeing the woman. The prince is collecting it. Everything related to escape was expelled from the kingdom. His friends have moved to a ballet tree. She was told to wear a red dress during the full moon as Lilet would do.
Oyeng followed the instructions of his friends. Most people already believe in him because of the miracle he did to Lilet.
After 10 years, the young man did not see much strange behavior and speech. Oyeng was able to marry in the person of Loisa and she had two children here. Lilet and I did not stay together. Even though he loves it, he accepts the fact that heaven and earth cannot reach each other. In spite of what he did to the girl, Senyor Rafael and Senyora Amanda objected that he would marry the two.
However, Oyeng boarded the lot occupied by some ballet trees including the largest as promised by señor Rafael. Oyeng's life went well because of gold. But, he is still a farmer.
Lilet, on the other hand, got married to Kano. When she made an excursion with 8 friends on Mount Makiling, she returned to acting strangely. His friends and wife said he ate guava fruit. However, her sister-in-law Dorothy said that the woman was able to cut down a mound next to the guava tree just because she was bitten by ants. Dorothy allegedly stoned the mound and beat the wood with the help of her boyfriends and his wife.
Lilet was bedridden for two weeks due to the strange disease of rapid aging. They referred him and treated him with an herbalist but he was not cured. Senior Rafael wanted to ask for Oyeng's help but Lilet's wife forbade him. When the senator asked Oyeng for his opinion on what happened to his daughter Lilet, Oyeng said that the woman was a fairy.
The fairies were angry because their fort was destroyed. His friends had nothing to do with or could do to heal the woman. He said the fairies in Makiling should apologize for what Lilet did. Senior Rafael said this to Lilet's wife and ten others involved in the destruction of the mound but they listened. They do not believe in fairies.
Another week later, 5 of Lilet's friends and her husband went crazy. Lilet died after drinking milk and vomiting.

THE END