A Happy Weekend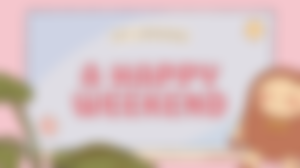 October 23,2022
Hello everyone.. Ohh, I have an article for todays video.. Lol.. I feel that I wasn't going to publish again today because I have no draft articles and I'm too lazy to write. So about a few hours ago, I was suddenly possessed by diligence, that's why I have something to publish today.
So today's article is themed: life update
So maybe it's obvious from the theme and title astory of my boring life again. . Lol
Saturday, October 22, 2022
This day I woke up early and FYI I'm not going anywhere the only thing I'm going to do is do laundry.. Because the weather is a bit rough I did laundry early because it's only sunny in the morning then it's raining in the afternoon. Last week, our electricity bill arrived and we were surprised at how high it was. So mom told us not to use the washing machine because that was she think is the cause of the increase in our bill (no one stayed in the house from monday to friday and if we go home it's very late at around 8pm. We also don't use aircon only 4 fans and watertank pump and washing machine uses electricity.) so we were not allowed to use the washing machinr but I'm still stubborn .. Hehe.. It's very tiring to wash manually.. That's why I used the washing machine, but I only washed it with detergent, and I rinsed it manually.. Ohh, I hope my technique is effective to reduce our bill.. Hahaha
It was around 2 pm when I finished. And someone chatted in our family gc.. They were inviting us for my cousin's daughter's birthday.. Of course, I hurriedly prepared.. That's a free meal.. Lol
It's delicious even though the sauce is not enough.. Hehe, I like palabok that has more sauce than the pasta.
This is the best fried chicken. It is over-sized slices of fried chicken. Honestly bigger than Jollibee's chicken joy.
This is the one I didn't taste.. Because it's already gone.. We also a bit late when we got there because we waited mom to come home for us to go together. Hukbong sandatahan yarn..
Their shanghai is legit, it has a lot of meat inside, unlike other party that only have wrappers.. Hehe
The cake is also delicious, the mixture is just right and the cake tastes good
This is really something that will never go away when there is a party here in our family. Anyone has pancit ready even if its role at the party is only takeout food..
Join me at:
Noise, Read Cash, Hive, noise.app
Disclaimer:All texts are mine and original, as stated. Any resemblance to other content is entirely coincidental, as is any similarity. Copyright © 2022 JHT — All Rights Reserved