Tropical cyclone odette in Philippines
Im late of talking or writing this article ,but there are some users here didn't know the whole story of this typhoon that hit in Philippines this dec. 16,2021.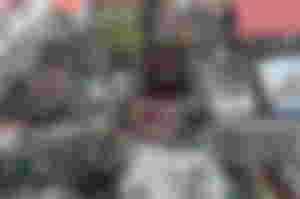 If you are a filipino reading this, well you can skip this article of mine, since you are already know what typhoon odette cause us especially in Visayas and mindanao.
Im from mindanao Philippines, before this typhoon became a storm surge. On the day of dec. 15,i dont really feel good with this typhoon. Hence when i look at the forecast of our weather specialist page, the Typhoon odette is huge and it has a large volume of wind. December 15 at night, i cant really sleep because i have a trauma of my past that im also a victim of Typhoon sendong and typhoon venta. I really feel nervous, coz in my mind the flood will anytime hits us since we are living in low lying areas and near in the river. I think i sleep at almost 11pm then i awake at 3am in the dawn of december 16,then i cannot go to back to sleep because the rain continuous pour. I only did is to watch out the update of this Typhoon since in our area we are at signal #2. Though i cannot really feel the strong wind but only my guts and nervous of what could possible happen with those kind of weather.
Even i don't have a proper sleep with other night, God still giving me energy and strength to evacuate and bring my 2 kids with the rain so heavy. I did not mind the rain, the important for me is we can safe and evacuate as soon possible. At 10am we finally on the house of my mother. So thank God even i struggle carrying some luggage and 2 kids. God is still helping me that Day.
At exactly 1pm i saw our river flows of high volume of water. And the current of water is so fast. So in my mind that time our home could already be flood. Here in CAGAYAN DE ORO mindanao some parts are experienced the wind but in my area we only feel heavy rain. And in 1:10pm the weather specialist code as RED ALERT. it means we have to evacuate in higher ground because the flood already started in low areas and the Super typhoon odette already landfall in siargao island. Siargao island is the first and got serious damage of this typhoon. Many houses, establishments, schools and offices was washout by typhoon odette. We are lucky here in cagayan de oro area because we only experienced 1st layer of floods while the other areas got fully wash out belongings and their houses, only the floor can be their home to lye off. So they are in state of calamity.
The sad part is, our government already released all the funds for calamity and they do not have any other budget stocks. So for now our beloved PRESIDENT DUTERTE is asking some help from our country neighbors to help us accumulate of 10 billion funds for the victim of typhoon odette.
Also TYPHOON ODETTE IS CALLED TROPICAL CYCLONE #5 jn the history of Philippines. So this the 5th tropical cyclone that almost damage a cost of billions property and lives. Many also have died to this storm surge. I hope next storm surge, no lives will lost. And hoping our government strictly set the rule of not building a house or huts within 4kms away from the sea or river. To avoid this kind of tragedy.
US AND JAPAN already donated us some essentials good & aids and also some financial. We thank US and japan for giving us urgent help.
I humbly also ask for your kind heart to help my fellow people of victims in odette to please help us especially in siargao, danao, leyte and any parts of visayas and mindanao that affecting by the surge of typhoon odette. Im also a victim of that typhoon, but the most needed for our help is the area of siragao, cebu, bohol and leyte. So if you have an extra money you can donate even a 1 cents. I want to help too but as you can see i only got few tips from rusty. And i use it for our daily needs since i have 2 kids to feed. And the foodpacks that gave us from DSWD is only once. There are some private organizations that distributing foodpacks but we cannot receive even one because our house is in the last part of our village(for short nasa pinaka sulok), thats why we are not updated to every donations that they gave. And the saddest part too. Our zone leader doesn't any care for his people. He had our list those affecting by the typhoon but he didn't care. So we are also seeking for extra help to give us some donations.
Anyway, merry Christmas in advance to us all read.cash users. Maybe your happy because you don't have any struggles in money, family and not affecting by typhoon odette. But me this 2021 is very lonely year for me. I lost my mom this august, after that i don't have any motivations to continue here in read.cash due to i don't have my mom anymore which is, she is the one to motivate me here. And now we are hit by tropical cyclone odette/rai.
I don't know how to stand and how to smile with this situation. And i also had an illness that need also a check ups and lab test. My mind is going to blow but i trust God that he will provide my needs and did not let me to failed.
I just exhale deeply but i need to survive thru all this circumstances.