Seasonal flu
Since 2022 is began, my 1st day of 2022 until now is not okay, anyway im gonna share to you guys of what happen on new year until this time, since i been missing here of almost a week. Im inactive due to many reasons and also i was feeling dizzy all the time till now.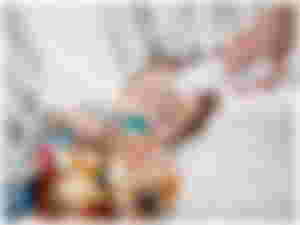 The Day of 2022 or first day of 2022 is not good for me, because on the morning of january 1, i got a hard time or relieved from my LBM/diarrhea, i almost 6 times go back to the comfort room and my tummy is so hurt. Every minute the pain is worsen. I don't understand the pain of my stomach that time.and i get to the point that i lose my appetite, i don't wanna eat because of the pain i feel. I only use to drink water always. I feel relieved on night at 6pm because i drink gatorade. Then the next day......... Taaaaraaraanntttttaaaarrrraannnnnnn......... The tragic is starting!!!!!!!!
❇️❇️❇️❇️❇️❇️❇️⚕️⚕️❇️❇️❇️❇️❇️❇️
At january 2,my partner is starting to sick He had a dry cough (wil im not surprise because he is stubborn, so he deserve it). So after 3days of having a dry cough he also had fever but he didn't tell me(that's his behavior, he will not tell you what he feel so you cannot blame me if im not taking care of him,his old enough so he can take care of himself). I only know that he has fever when the husband of his cousin asking him if he had fever and he said "YES". so i don't have idea for that so i didn't give him a medicine for his fever and he is not asking me for medicine so i ignore.
Disclaimer:im not a bad person that didn't care of the people around me, its just that they are the one who don't need my concern. So who am i to force my kindness if they don't want/need it.
I also tell my partner to not kiss our kids so that they will not infect of what illness he had, but since he is stubborn and doesn't listen to me so 5 days from the day he got a dry cough. january 6, My two daughters got cough and sneeze/colds.
My older daughter starting to cough and my younger one got sneeze all the time, so no wonder my younger baby had a colds. On that night my eldest starting to had a fever, so another eyebag I've got again. Everytime my daughters had illness i didn't sleep or if i sleep it only took 2hrs or 3 hrs. Then in the morning we go to the Health Center for my daughter's check up(its better early than sorry) though that time there cough and colds are not that serious but i wanna be sure that the doctor will give them prescription so i can buy some medicines if ever their illness is worsen. But sadly the doctor only give them carbocistine for the cough and antihistamine for colds and vitamins for them.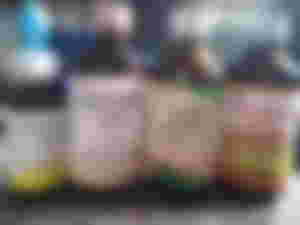 January 9 my two daughter had concur fever. So of course im start to panic again because it's not a joke that my eldest is her cough is so hard it's something a dry cough and always coughing, so her sleep always disturb due to that cough of her, also my young one had a cough too but mild. So i was telling my partner to bring our daughter to the hospital since i cannot bear to watch and hear that my daughter had a dry cough and vomiting everytime she cough. But since my partner is crazy human. So he only tell me to not to go on the ospital due to covid and he was mad when i told him "Gago ka" (STUPID/IDIOT). Will its true naman. So i tell him "IF SOMETHING IS WRONG WITH OUR Daughter AND YOU DID NOT TAKE ACTION I WILL BLAME YOU FOR THE REST OF YOUR LIFE AND I WILL NOT FORGIVE YOU". That time i was mad and i only find ways to buy an antibiotic, so glad that i found antibiotic on our neighbor store. They sell some generic medicines, so i buy amoxicillin syrup. [i know that I should not give my daughter a medicine that doesn't prescribed by the pedestrian but i dont want to look my daughter of having a hard or dry cough. So we all know as parents that antibiotics and water is the solution. Maybe my eldest daughter did not suitable for the carbocistine that's why her cough worse. After i gave an antibiotic to my daughter she lessen her cough. Though her fever is still high so i don't have any sleep until morning.
Being a parent or as a mom is not easy. Every time my kids got sick i dont have a proper amd and enough sleep. Until now i only sleep 4 to 5hrs only every day. That's why my head is also worsen. So im always dizzy but still standing because my kids need my care not their father. My Partner is an USELESS PERSON and doesn't deserved my love, my care, my concern and effort and kindness. Im being slightly bad due to his behavior and he is the one who taught me that way.
Until now my partner had a cough and still kissing our kids. He always doesn't listen to me. That's why im always mad at him for not listening to me. So im always calling him idiot or stupid due to my anger. And just few days ago i have a bad energy on my body. I feel chillin, bad appetite, bad stomach pain, kidney, headaches, and body ache even muscle ache and back pain. Until now im not feelimg well. No wonder one Day or this year I'll be gone to this earth. You will notice if im not posting an article 1 month ago or more it means im die. My kids are young but if God took me then i dont have any excuse to refuse our creator to take me.
Anyway on the 1st week and 2nd day of 2022 is almost many people and kids got flu. Will its been expected because new years eve is being full of lack of sleep even the kids doesn't have an enough sleep. That's why all the people is getting sick due also for the nonhealthy foods. So almost had a flu every household.
Always take care guys and prioritize your health and do some exercise. Sorry if i been missed for almost a week. Because im busy of taking care my kids and until now im focusing my health that i hope i can be better and well soon. Because my head is worsen day by day. Also my vision is affected. Plus my other organs start to pain. So i need general check up but lack of money. I hope God can heal me to cure or God give me some blessings for my check ups. That's it guys and be healthy and stay safe.