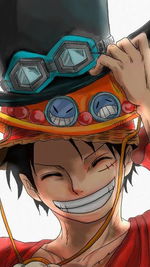 After we passed our requirements, we all came out.
"Bro let's eat at JOLLIBEE." Travis invited me one of my friends.
"But I prefer Mcdo because we always eat in Jollibee, let's choose McDonald's this time." Franz said.
"But we can't eat there without the permission of Louis." Kurt said and put his hand on my shoulder "the decision will be yours." I nodded at them.
I always treat my friends everytime we came out, but that's okay to me because I believe the more you give the more you will be blessed.
When we get inside the Jollibee, there's a lot of people eating so we look for a place to sit.
"Look everyone an empty seats." Ricci pointed out.
We all followed Ricci, I saw two tables left every table has four chairs but we're nine so it means only eight person can occupy there.
"Which one of us will be separated?" Laurence asked.
"For sure it's not me, I don't want to leave you guys." Cris said at the same time.
Everyone was seated and I was left standing."All right I'll just look for some place to sit." I told them.
I searched for an empty seat and soon found it where my friends were just behind me.
Later on our orders came so Jeffrey brought me my food and we started eating.
"let's take a pic guys." Franz said, "hey Louis face here." He added so I face them with a sharp smile on my lips.
After we ate we decided to go home. With my car they all get inside even though they were trying hard to get everyone in.
I drop them off in their houses and only two were left in the car that's me and Harry because his house is far away from those guys.
While we were on the trip I couldn't help but look at my side mirror because I think something's bothering him.
"Are you okay?" He looked to me as I spoke."Do you have a problem? Dont be shy to share it with me." I added.
Harry is known as a quiet person in the group.
He slapped first his face before he looked at me." My brother is in jail right now because of drugs, we need a big amount of money so we can get him out." he said.
"How much do you need?"I said
"Twenty-five thousand bro."
"Alright I'll give it to you tomorrow, so your brother will be released."I said as I looked at him from the side mirror of the car.
"Thank you Bro, thank you very much."he smiled.
When I got home I didn't have anyone in my room and took a bath,after I bathed I went out of the bathroom and went to the cabinet to get some clothes. My phone suddenly ring so I answered it.
"Jeff?"
"Hello"
"I have something to tell you." He told me.
"What is it?"
"Can I borrow money from you I have nothing else to go, my mom was run into the hospital because she had a heart attack."he said in low tone.
"How much do you need?"
"Fifteen thousand bro."
"Okay tomorrow I'll give it you tomorrow." I said
"Thank you so much bro. I have nothing else to say but thank you, may God bless you more." He added.
The next morning I was in the bank account to withdraw money then I gave it to Jeffry and Harry later on I went home.
I would have heard the door of the house as I heard it inside.
"how could you to do this! Why did you sell this house!! This house is very important to us why?" Mom shouted.
"I have nothing to pay I lost in casino." Dad replied.
"I already told you that gambling is not a good idea.." Mom stopped when she saw me at the door.
"Louis you're here, did you eat already?"
"I'm still full."I said and go to my room.
As I was lying in bed I heard voices downstairs so I get up quickly, I saw Mom kneeling to a lady.
"please I'm begging you, I'll pay you as soon as possible. Just don't take this house from us." Mom cried in front of her.
"Mrs. Castro, where are you going to get money to pay me? Your business already bankrupt. Leave now coz we will move here tomorrow." She said.
I also noticed that our luggage is already outside, I approached my mom and take it. "Let's go mom."
"You will not take anything in this place even that car, your house isn't enough to pay your father's debt"
I came to dad and punched his face "it's all your fault, if you stopped your gambling at first we wouldn't be experiencing this!" I burst out.
"Forgive me, son forgive me."Dad cried.
*********
With the money I left in the bank, I thought of finding a rent, I thought my money was a lot but when I checked it... only 15 thousand left.
Months passed we were still struggling to live. The worst thing is my parents are getting sick, I didn't even continue to study because no one would take care of my parents.
I contact my two friends for owing me before but they didn't show theirselves. I also came to my other friends asking for help but no one lend a hand to help. I came to them one by one but no one helped me.